Are you really ready to see Tennessee Titans rookie Jeffery Simmons sit out 2019?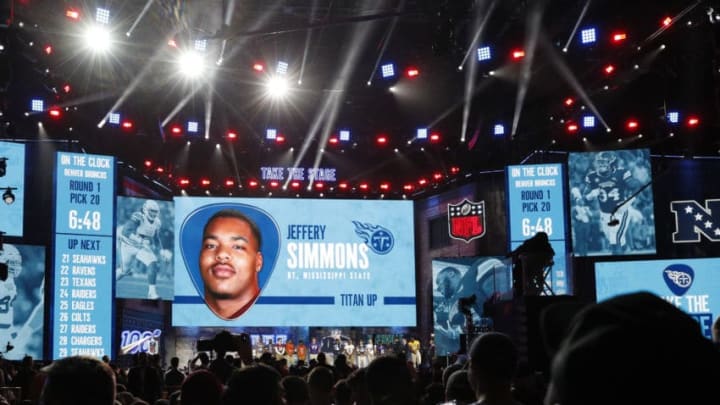 NASHVILLE, TN - APRIL 25: Jeffery Simmons of Mississippi State is announced as the first round pick of the Tennessee Titans during the NFL Draft on April 25, 2019 in Nashville, Tennessee. (Photo by Joe Robbins/Getty Images) /
How do you really feel about Tennessee Titans rookie Jeffery Simmons playing in 2019?
Yesterday Titan Sized posted an article showing Tennessee Titans rookie DT Jeffery Simmons running sprints in a straight line.
I expected to see a lot of positivity and hope in the responses to this, and there definitely were a lot. However, either the Titans fan base has gotten more patient or they are guarding themselves against the disappointment of Simmons missing the 2019 season.
I say that because there was such a strong response of people saying that Simmons should just take 2019 off, which is the opposite of the impression I got from the video. To me, it looks like Simmons is on pace to be fully recovered by Week 8:
Like I said in that tweet, even if the Titans want to rest Simmons for an extra month that still puts him healthy and ready to play after a bye week. That is important because they can spend that bye week giving him a ton of reps in practice and trying to make sure he is up to speed physically and mentally.
But, I asked fans what they thought the Titans should do about Simmons and I hoped I was clear. (Ignore me writing 2018 on the polls instead of 2019)
With the results of those polls and the way I intended those tweets to be read, here is what that says to me: We think Jeffery Simmons will be healthy enough to play in 4-5 games, but we think he only will play 1-3 games.
If that is what everyone voting meant, I definitely understand where that is coming from. You can look at how protective Mike Vrabel was with players during the season last year to see that he cares about his guys as more than just "Xs and Os" and that he wants them to really be healthy before they come back.
You can also look at the aforementioned Jack Conklin injury and see that even if a guy looks healthy enough to play, maybe it is best to rest him an extra week or two on top of the projected time line.
More from Titan Sized
The most surprising thing from those polls is that nearly twice as many of you think that it is more likely that Simmons misses the entire season rather than coming back for six or more games.
Even with my conservative timeline based on Jack Conklin's injury, Simmons would still get to play in six games despite getting an extra month of rest.
Are you really alright with Simmons not playing the full season? I am not. I think that Simmons is trying hard to get healthy as quickly as possible and with a very weak group of offensive lines on the back half of the schedule, getting him back would be a huge boost.
If they don't feel confident in his rehab or there are other concerns, sure shut him down. However, just because Conklin had a tough season with his injury, I don't think the stance from Titans fans going forward needs to be that guys can't play the season after they tear their ACL.
Will it be tough for him early? Yes. Will he be at 100% on the field? No. However, the quicker he gets his feet under him in the NFL and gets a real taste for what he needs to work on and what he can win with, the better.