Two stats that prove the Titans have the best safety in the NFL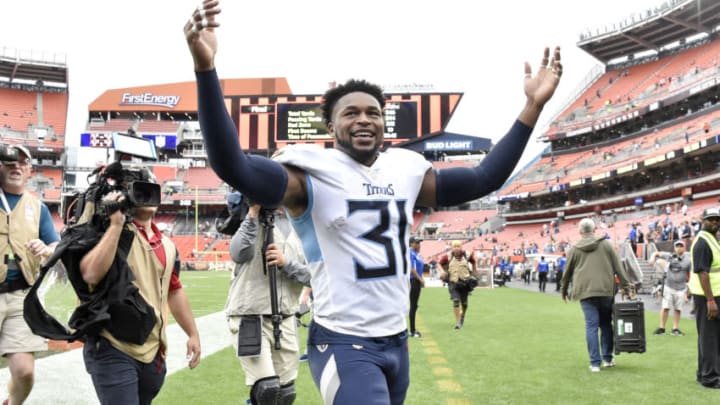 CLEVELAND, OHIO - SEPTEMBER 08: Free safety Kevin Byard #31 of the Tennessee Titans celebrates after the Titans defeated the Cleveland Brownsat FirstEnergy Stadium on September 08, 2019 in Cleveland, Ohio. The Titans defeated the Browns 43-13. (Photo by Jason Miller/Getty Images) /
Titans safety Kevin Byard is the best safety in the NFL.
Don't worry, this won't be a long argument because it doesn't take long to prove it, but we all need to agree that the Tennessee Titans have the best safety in the NFL in Kevin Byard.
Before you disagree or rush to comment, let me show you these two stats and you tell me what else you want a safety to do.
Let's start with what everyone already knows, and that is that Kevin Byard is one of the most opportunistic DBs in NFL history. Since 1999, no other safety has ever had more interceptions than Kevin Byard in their first three seasons as a starter.
Not only that, but take a look at how dominant Byard has been compared to players playing today.  Over the last three years just look at the discrepancy in interceptions between the Titans star and the best CBs in the NFL:
 Kevin Byard: 17 interceptions
1. Marcus Peters: 13 interceptions
2. Darius Slay: 13 interceptions
3. Kyle Fuller: 12 interceptions
4. Xavien Howard:  12 interceptions
5. Tre White: 12 interceptions
6. 2 others tied with 10 interceptions
Now compare him to the other safeties:
1. Tre Boston: 11 interceptions
2. Jordan Poyer: 11 interceptions
3. Harrison Smith: 11 interceptions
4. Eddie Jackson: 10 interceptions
5. Damontae Kazee: 10 interceptions
6. Marcus Williams: 10 interceptions
7. 3 others tied at 9 interceptions.
At this point, it is undeniable that he is the best safety in the NFL at taking the ball away, and the only question is whether he should be called the best ball hawk in the NFL even over all the cornerbacks.
Stat #2
The other stat is something you might not know, but Byard is one of the best tacklers in the NFL. Just look at how rare it is for him to miss a tackle, and again notice that this isn't one great year because this one covers the last two years:
Byard has proven year in and year out that he is great against the pass and the run, and when I say great I mean it in the historical sense. We are watching a player who is having one of the best startest an NFL safety has ever had, and it is going overlooked.
From now on, any time you hear someone say that Byard isn't the best safety in the NFL please inform them of how incorrect they are. It is a win-win, you look smart and the world learns about the potential Hall of Fame career they are missing.
Just add him to the growing list of elite players that the Tennessee Titans have signed to new deals recently.