The evolution of Tennessee Titans elite tackle Taylor Lewan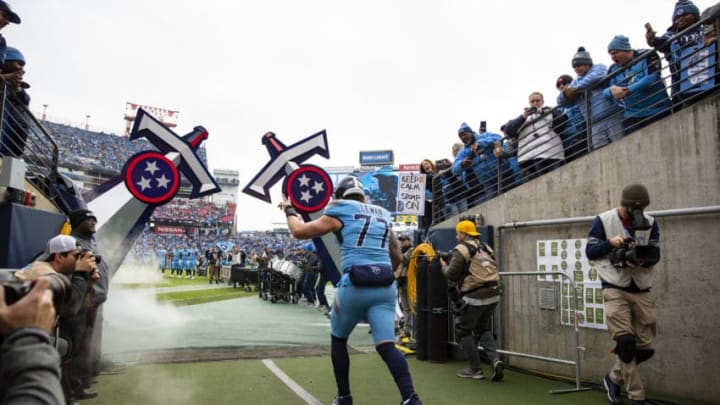 NASHVILLE, TN - DECEMBER 15: Taylor Lewan #77 of the Tennessee Titans enters the field as he exits the tunnel before the game against the Houston Texans at Nissan Stadium on December 15, 2019 in Nashville, Tennessee. Houston defeats Tennessee 24-21. (Photo by Brett Carlsen/Getty Images) /
Taylor Lewan is embracing his leadership role and that may be the key to taking this potent offense to a whole other level.
Earlier this offseason, Titans' star left tackle Taylor Lewan was asked about stepping into a leadership role after the team saw a bunch of noticeable players from years past head elsewhere for a variety of reasons (Delanie Walker, Jurrell Casey, Logan Ryan, etc.)
The former Michigan product didn't shy away from the questions and in fact, embraced them while constantly pointing the finger at himself more often than not when discussing why he hadn't taken on that role a lot sooner.
Lewan openly criticized himself and admitted that he got too much into his own head and never wanted to come off as something he wasn't.
However, one thing that I think the Barstool star may be underselling is the fact that he has always been a captain for this team in some capacity. In fact, the California native was voted by his peers as an official team captain to start the 2015 season.
"A shot to my ego."
Following the firing of Ken Whisenhunt, then interim head coach Mike Mularkey eventually stripped Lewan's captaincy and gave it to veteran running back Dexter McCluster.
Mularkey said the decision was based solely on the experience of McCluster, a six-year veteran when the change took place. At the time, Lewan was barely in his second year and had played in just 19 games following a rookie season in which he shadowed Michael Roos for much the year.
This 'demotion' was something that the talented offensive tackle admitted was a "shot to my ego" when it happened. Despite the reasoning given by Mularkey, it is natural for someone in Lewan's position to take that message and subconsciously start to believe that maybe you should just 'stay in your lane'.
Regardless if the former University of Michigan standout was listed as an official captain on the game-day programs, he never let any of that deter his production on and off the field.
Since then, Lewan has made three pro bowls, temporarily became the highest-paid offensive lineman in NFL history, and has been a star off the field with his 'Bussin' with the Boys' podcast alongside former Titans linebacker Will Compton.
More from Titan Sized
More importantly, he has been one of the biggest foundational pieces on the team and has helped lead a turnaround from a program that went 5-27 over his first two seasons, to a team that was two wins from being world champions just a few years later.
Whether or not Lewan has had a captain patch is ultimately irrelevant because anyone who watches Titans football since he arrived can tell you what his mere presence does for this football team.
The perennial Pro Bowler has a passionate personality and a tenacious 'Dont giva' attitude that is infectious anytime he steps in between those white lines.
Everyone knows when you play Tennessee, if you are going to do anything dirty, or have anything to say, chances are No. 77 will be right there to chirp something back.
When Lewan was suspended for the first four games of the 2019 season, it was felt from the get-go. On top of missing one of the most complete offensive tackles in the NFL, the team lacked that passionate presence to feed off of when things were going south. The offense was often flat and evidently missed the energy he undoubtedly brings to an entire offense.
Now that he won't have any lingering suspension weighing him down, this upcoming season has the potential to be a monstrous year for the former first round pick.
Lewan has openly stated how it may have taken him a while, but he has now realized that he can lead in his own way and doesn't have to be the typical 'rah-rah' leader that most people think of when they hear that word.
In reality, he has always led that way. But the fact that he has now started to genuinely believe in that and has seemingly fully embraced it, means we could possibly see the most focused and dominant version of Taylor Lewan in 2020 and beyond.