NFL Power Rankings, Week 13: Titans rise, Cowboys, Eagles and Colts drop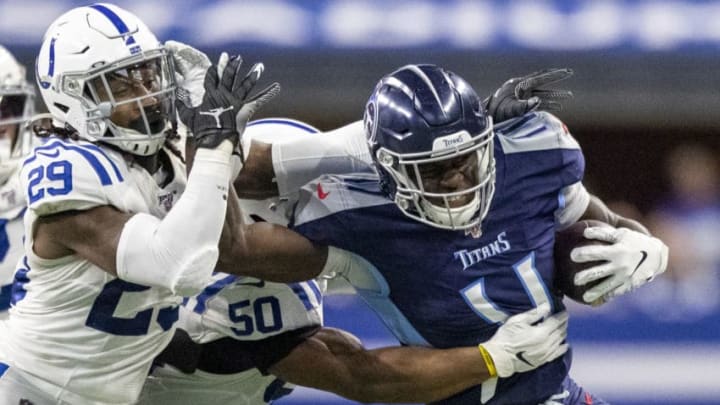 INDIANAPOLIS, IN - DECEMBER 01: A.J. Brown #11 of the Tennessee Titans stiff arms Malik Hooker #29 of the Indianapolis Colts after making a catch in the third quarter of the game against the Indianapolis Colts at Lucas Oil Stadium on December 1, 2019 in Indianapolis, Indiana. (Photo by Bobby Ellis/Getty Images) /
(Photo by Justin Berl/Getty Images) /
12. Pittsburgh Steelers

Recap: The Steelers were solid if unspectacular today and they ended up winning largely on the back of James Washington's 100+ yard day.
I should say that the defense was really good, which is to be expected at this point and it is time to really start talking about T.J. Watt as a guy who is in the upper echelon of young pass rushers.
Outlook: Did you know that the Steelers were 7-5? As hard as that is to believe considering it seems like everyone on that offense is having a bad year, it seems like they have set themselves up for success though they are still probably only going to be projected for 8 or 9 wins.
(Photo by Bobby Ellis/Getty Images) /
11. Tennessee Titans

Recap: What a fantastic win by the Titans in Indianapolis. That is a game that previous Titans teams would have lost in heartbreaking fashion. However, today they ended up making the key plays instead of being the victim.
Make no mistake, the Titans didn't call a great game and in fact, most of the good plays that the Titans had came from Ryan Tannehill going hurry up or changing things at the line of scrimmage.
More from Titan Sized
Still, the fact that the Titans managed to go to Indianapolis and win a crucial game against a team that has been their boogeyman for a decade, is impressive.
Outlook: The Titans have four games left, but next up is the matchup against the Oakland Raiders that could have big wildcard implications.
If the Titans win that game, then they would already be at 8 wins and they would have tiebreakers with Cleveland, Kansas City, Oakland, and the Chargers (if they somehow go on a run). That could be the right combination to get the Titans to the post season.
Even if that doesn't come to fruition, the Titans have a chance to win the division outright with two games against the Houston Texans in front of them.
Tough matchups, sure. However the Titans just got a huge skeleton out of their closet with a win today and they are 5-1 in their games with Ryan Tannehill as the starter. Momentum and productivity seem to be in favor of the Titans.