PFF ranks Tennessee Titans rookie Jeffery Simmons as a top-3 first round pick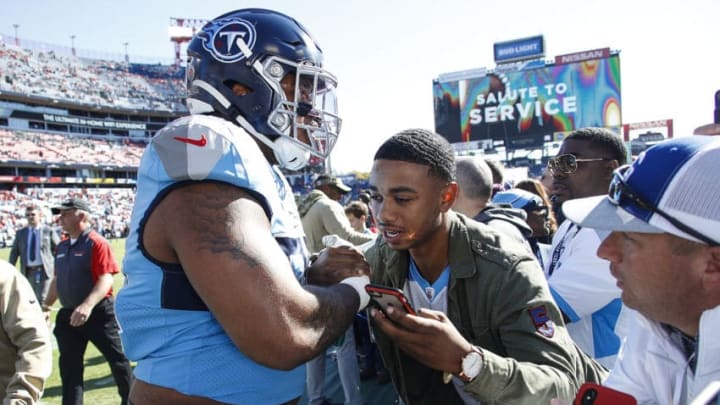 NASHVILLE, TENNESSEE - NOVEMBER 10: Jeffery Simmons #98 of the Tennessee Titans shakes hands with a fan prior to a game against the Kansas City Chiefs at Nissan Stadium on November 10, 2019 in Nashville, Tennessee. (Photo by Frederick Breedon/Getty Images) /
Tennessee Titans rookie Jeffery Simmons is very good despite being thrown into the fire early.
Jeffery Simmons has been outstanding for the Tennessee Titans since stepping into the lineup, even if it doesn't always show up in the stats.
On paper, the Titans defense is doing less as the season goes on and the stats aren't going up like we thought they would for Jeffery Simmons. If you are just glancing at the Titans, you may be wondering if Simmons is still having a big impact despite this.
The answer is a resounding yes, and all you have to do is watch the first play last Sunday to see why that is.
More from Titan Sized
If you can't watch it let me describe what happens. The Jacksonville Jaguars try to get the Titans off-balance early by running a counter to try to take advantage of the linebackers flowing quickly.
That means that the playside tight end has to wall off the defensive end to create a hole for the pulling guard and fullback to run through so they can get to the linebackers.
Unfortunately, the defensive end on the play was actually Jeffery Simmons who was playing on a line with Harold Landry, Daquan Jones and Jurrell Casey with he and Landry as the ends.
So you can imagine that when the tight end hits Simmons he instantly knows the play isn't going to work and you can see that when Simmons basically uses the TE as a riot shield and throws him into the pulling guard and fullback, blowing up three blockers in one play.
Fournette panics and tries to push the play outside where the Titans defense is waiting for him and just for kicks, Simmons ends up being the one that finishes the tackle after shedding the tight end.
Things like this happen all the time, which is why it didn't surprise me to see that Simmons has one of PFF's top-3 grades for 1st round picks despite playing less than 200 snaps (which actually hurts Simmons because generally more plays equal a higher grade with PFF).
Only two players are ranked higher than him:
–Dexter Lawrence DT, NYG (who is basically the result of the Odell Beckham Jr. trade)
-Joshua Jacobs RB, Oakland Raiders
I really didn't love the Simmons pick at the time and I was really concerned that his lack of impact this season would hurt the Titans long term even though I knew he was going to be a good player.
However, I definitely missed on that and he is already looking like the guy that I thought the Titans would get late in year two. He has incredible strength in his hands and demands attention and I believe he is up to 7 penalties that he has created (five holding calls and two false starts).
He is outstanding and fans should be excited to see how he finishes this season and builds on a great rookie campaign.