A.J. Brown flirting with several Tennessee Titans rookie records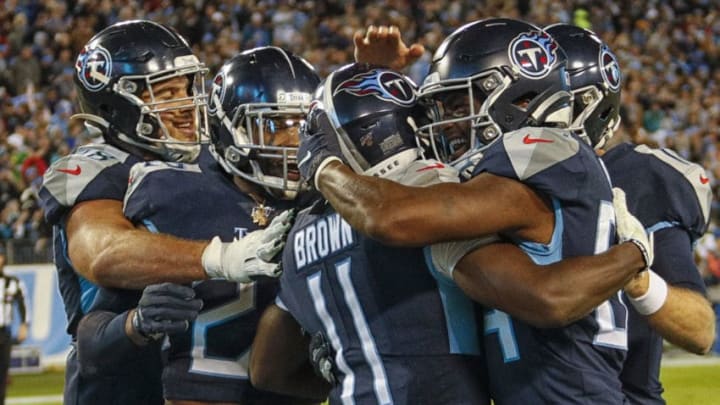 NASHVILLE, TENNESSEE - NOVEMBER 24: A.J. Brown #11 of the Tennessee Titans is congratulated by teammates after scoring a touchdown against the Jacksonville Jaguars during the second half at Nissan Stadium on November 24, 2019 in Nashville, Tennessee. (Photo by Frederick Breedon/Getty Images) /
A closer look at just how good A.J. Brown has been for the Tennessee Titans.
It isn't hard to see why people thought A.J. Brown was a steal for the Tennessee Titans in the 2nd round of the 2019 NFL Draft.
Still, I don't know if any of us thought that he would be this exciting and productive at this point in his career.
Brown is quickly writing himself into the Titans record books, so I wanted to take a look at where he stands among the major milestones.
Receiving yards: 3rd place
With 11 games in the book, A.J. Brown is already firmly in 3rd place for most receiving yards by a Titans rookie WR with 581 yards.
Ahead of him are Kendall Wright with 626 yards (45 yards ahead) and Kenny Britt with 701 (120 yards).
With five games left that just means that Brown would need to average 9 yards per game to hit 2nd place and 24 yards per game to tie for the lead. That seems extremely doable for someone who is averaging more than 18 yards per catch.
More from Titan Sized
Touchdowns: T-1st place
Right now Brown is tied in first place for touchdown catches by a Titans rookie WR with 4. He joins Kendall Wright, Dorial Green-Beckham, Justin Hunter, and Tyrone Calico.
I think something that really helps his chances of breaking that tie is that he is a much bigger part of the offense than most of the players on that list.
While Kendall Wright was a target magnet, he wasn't really the go-to guy in the redzone for the Titans in his rookie year. On the flip side, both Hunter and Calico only finished with 18 receptions each, meaning they had significantly fewer opportunities.
100+ yard games: T-1st place
It seems like he has had more than 2, but with two 100+ yard games this season he ties Justin Hunter, Dorial Green-Beckham and Kenny Britt as the only rookie WR with more than one.
I should say if this list was games of 80+ yards, Brown would be in first with 4 of those games under his belt which is arguably splitting hairs but getting 100+ yards feels like it means more for some reason.
40+ yard receptions: T-1st place
Stop me if you have heard this one, but Kenny Britt and Justin Hunter are now tied with A.J. Brown at the top of this with 4 catches of 40+ yards each.
With five games left to go the numbers say that there is a good chance that Brown sits alone on the top of this list by the end of the year, but huge plays like that aren't easy to come by and it is rare to see players with five or more of those in a rookie season.