Tennessee Titans would you rather: keep these WRs or trade them for Alabama's WRs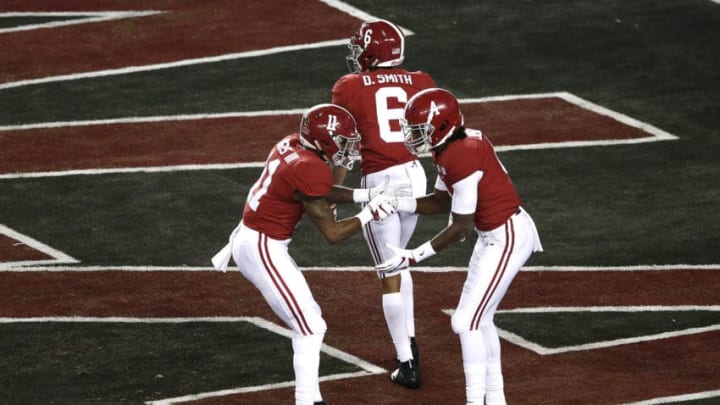 SANTA CLARA, CALIFORNIA - JANUARY 07: Jerry Jeudy #4 of the Alabama Crimson Tide celebrates his 62 yard touchdown reception thrown by Tua Tagovailoa #13 against the Clemson Tigers during the first quarter in the College Football Playoff National Championship at Levi's Stadium on January 07, 2019 in Santa Clara, California. (Photo by Lachlan Cunningham/Getty Images) /
A pretty interesting debate for Tennessee Titans fans on the current state of their wide receivers.
The Tennessee Titans have spent a first, a second and a third round pick on wide receiver over the last three drafts as well as spending a good amount of money on free agent Adam Humphries.
So in theory you would think that they have a pretty good group of receivers and honestly you aren't wrong. It looks like this is going to be the year where there is no weak link at receiver and they will have a chance to put some real strain on opposing defenses.
As happy as fans should be with that group, TDN writer Brad Kelly brought up a very interesting question. He proposed a hypothetical question for all 32 NFL teams asking whether or not they would be better off with the Alabama receivers than what they have now.
Here is his quick explanation on why teams would consider it:
""I hold each of these prospects in high regard, as I currently see (Jerry) Jeudy, (Henry) Ruggs and (Jaylen) Waddle as top 3 wide receiver prospects in their respective classes, and Devonta Smith as a top 10 in his class. Projecting them to the NFL level, we could easily be talking about multiple players from this group entering the top 10 of wide receivers throughout the NFL.""
When it was all said and done, he named only 12 teams who were better off now than with what Alabama could offer. Those teams were the: San Francisco 49ers, L.A. Rams, Atlanta Falcons, Minnesota Vikings, Chicago Bears, Philadelphia Eagles, Oakland Raiders, L.A. Chargers, Cincinnati Bengals, Cleveland Browns, New England Patriots, and your Tennessee Titans.
I was a little bit surprised as well, but here was his explanation:
""Tennessee has built solid depth at the receiver position in recent years, matching the four quality Alabama receivers with Corey Davis, A.J. Brown, Tajae Sharpe and Taywan Taylor. With three of those being mostly proven commodities, and the potential of A.J. Brown, I currently lean towards the Titans in this match-up.""
I'm going to go ahead and say that Adam Humphries was supposed to make the list somewhere, seeing as how he was one of the best slot receivers in the NFL last year.
More from Titan Sized
Even skipping that, it is interesting that he went this way. You can convince me that Corey Davis had better college tape than any of those four prospects and that A.J. Brown is definitely in the conversation as the second best name on that list.
After that you are arguing the upside of Taywan Taylor vs Waddle and the technique of Humphries vs Smith. I can definitely see the "bird in the hand" mentality of that.
This is a very interesting debate and we will have a much better idea of what A.J. Brown is after this season and who these prospects are so this will be interesting to revisit. However for now, I agree with Kelly that you have to trust what you have seen consistently more than the potential upside of those prospects.