Historical perspective on Tennessee Titans rookie Jeffery Simmons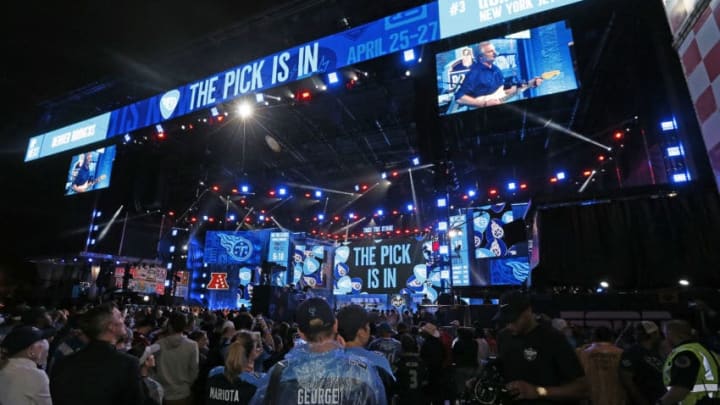 Tennessee Titans (Photo by Frederick Breedon/Getty Images) /
What does history tell us will happen to Tennessee Titans 1st round pick Jeffery Simmons.
When the Tennessee Titans selected Jeffery Simmons, I was disappointed to say the least.
None of that doubt came from what I saw on the field though, it was the shroud of doubt surrounding the pick.
Despite playing a position with one of the lowest positional values in football (1-tech), Jeffery Simmons is a player that really grew on me during the draft process. At first I had him as a fringe first round pick because of his lack of sack production and his inconsistent pad level.
After going back and doing a positional review, it became really hard to put Christian Wilkins over him even considering his injury. So I elevated him to a mid 1st round pick.
So, if you are getting a top-5 talent with a top-15 grade at 19 it is good value right? Well, sorta.
Forget the off the field issue if you can because everyone from Jon Robinson to Amy Adams Strunk to former coaches and players have come out and spoken up about his high character. Most strikingly, Bob Shoop his Defensive Coordinator at Mississippi State had this to say about him:
""In 30 years of coaching Jeffery [Simmons] is as fine a person as I have ever met…he is a great representative of our state""
I could transcribe paragraphs of the glowing compliments that Shoop gave to Simmons, but I wouldn't do it justice in print. So look that interview up that I linked above and listen to how he is described.
More from Titans Draft
So when you look back at my "C" grade for Jeffery Simmons, you may ask what has changed? Well, the character issue is about as cleared up as it could possibly get and it seems like if anyone deserves a second chance it is him. The talent was always there, so that is a check. The only thing left is the injury?
What can I do to give some more perspective on the injury concerns? The best thing I can think of is to go back and find players with ACL tears that occurred before their rookie year and compare him to their career arc.
Honestly, I can't really find any good examples that are representative of what Simmons will go through. However, I can get close by giving you the names of some recent examples of players who have missed the majority of their rookie year with a major injury.
2015: Dante Fowler
-Fowler has had a strange career, but some of that is just because that is what happens when you end up with Jacksonville. He missed his entire rookie year with a torn ACL, but it occurred in training camp which was in May.
In his first year he played more of a rotational role, earning 4 sacks in 569 snaps then he doubled those sack numbers, tallying 8 in 2017 in nearly the exact same number of snaps. When things got frustrating Fowler was traded to the L.A. Rams and has been solid for them, earning a new contract.
2015: Todd Gurley
Gurley tore his ACL during the CFB season in mid-November. He missed all of training camp and some of the season, playing in 13 games as a rookie. Here is why this is interesting, the timeline between when Gurley tore his ACL (November 15th) and when he started practicing (August 24th) was 282 days. This will be important for later.
I think everyone would agree that Gurley didn't even notice his ACL injury as he became the rookie of the year despite playing just 13 games and has gone on to be one of the most effective offensive weapons in the NFL.
2016: Sheldon Rankins (broken fibula)
-Rankins really hasn't been hampered by this injury, coming back later after taking 11 weeks to recover. Since then he has 14 sacks in his career and 10 in the last two seasons combined.
Even though this is a different injury, a major lower body issue for a DT seemed worth including on this list.
More from Titan Sized
So what?
I am sure that I missed some, but these are the only top-15 caliber players that I can find who have been injured recently in a way that I think is comparable to Simmons. The best comparison I can see is Todd Gurley.
Both players were judged as elite talents coming out, both play positions that rely on burst but aren't solely defined by it, and both injured their ACLs before they were actually drafted.
Using Gurley's timeline as a measuring stick, Jeffery Simmons who be able to start practice during the Tennessee Titans BYE week. That is a pretty huge development because he could be eased into practice at a time where the Titans can afford to give him some reps with the defense because they aren't specifically game planning for another opponent.
Let's be conservative. If he eases into practice during the BYE then spends Week 12 getting fully ready and practicing but isn't active for the matchup against Jacksonville. That means that you could play him as you saw fit from Week 13 on.
The schedule over that time is:
-At Indianapolis
-At Oakland
-vs Houston
-vs New Orleans
-At Houston
That stretch of games could have serious implications for the AFC South race and the wild card hunt. If he could come back and contribute anything this year it would be outstanding, but history does seem to say that in the recent past you can expect good returns on your investment even if he misses those other months.
I am not saying that he will be a game breaker or even someone who makes a huge impact, but to add a rotational player with his talent at such a crucial point in the season should be the dream.
If he gives the Tennessee Titans anything during that stretch then they should be excited and history does seem to favor that outcome.
All in all this should reassure Titans fans that Simmons can have an impact on the season. Jon Robinson did a great job addressing needs after the first round and if those holes can be patched up in addition to getting a talented defensive lineman then retroactively I may end up changing that "C" grade to an "A".