Food for thought: Tennessee Titans GM Jon Robinson respects DC Bob Shoop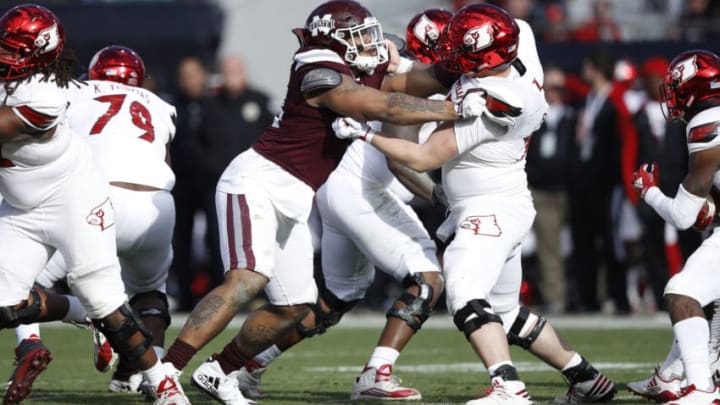 JACKSONVILLE, FL - DECEMBER 30: Jeffery Simmons #94 of the Mississippi State Bulldogs in action against the Louisville Cardinals during the TaxSlayer Bowl at EverBank Field on December 30, 2017 in Jacksonville, Florida. The Bulldogs won 31-27. (Photo by Joe Robbins/Getty Images) /
The Tennessee Titans have an interesting bias.
All GMs have biases and Tennessee Titans GM Jon Robinson is no different.
I have written before about what he looks for in wide receivers and his strange habit of drafting Senior Bowl players in the 3rd round. One of the things that might become a trend is his respect for Bob Shoop.
Now, if you don't know who Bob Shoop is, I don't blame you at all. Not because he isn't good at his job, but he just isn't a big flashy name that you hear about.
Currently, Shoop is the Mississippi State defensive coordinator and he has 10+ years experience as a DC in the NCAA. The reason why this is important to you is because you probably remember that Jeffery Simmons was the DT under Shoop in 2018.
Just focusing on the field, Shoop used Simmons primarily over the center but also wasn't afraid to move him around along the defensive line. Shoop helped further develop the star DT and turn him into the highest rated defenders in this draft class.
What you may not remember is that Austin Johnson also played under Shoop when he was the DC at Penn State. Like Simmons, Johnson developed quickly under Shoop as a versatile defensive lineman, only this time Shoop developed a 3-star DT into a 2nd round draft pick instead of taking a 5-star and turning him into a top-10 talent.
More from Titans News
Drafting two defensive linemen from the same DC isn't completely novel, but what makes it a little more interesting is out of 29 draft picks in the Jon Robinson era, he has only selected two defensive tackles: Austin Johnson in the 2nd round in 2016 and Jeffery Simmons in the 1st round in 2019.
That is a pretty interesting coincidence and maybe it is one that Titans fans should take note of.
Obviously I am not saying that he will only draft DTs from Shoop and no one else, but clearly he respects his ability to develop players into NFL caliber talent and going forward if you see Shoop's name as a prospect's DC during the draft process you make want to make a note.
Even thinking long term, Dean Pees is constantly reevaluating whether or not he is going to coach on a year to year basis. Eventually there will come a time when he doesn't want to be a DC anymore, which is bad news for Titans fans as he looks like maybe the best DC they have had since Jim Schwartz.
However, Bob Shoop is 52 and has done a really good job as a DC at power-5 conferences. Taking over at Vanderbilt where a 3-star player is a luxury, this was how his unit developed during his tenure:
2010: 31.2 points per game, 11th in the SEC (the year before Shoop was hired)
2011: 21.6 PPG, 7th in the SEC
2012: 18.7 PPG, 5th in the SEC
2013: 24.6 PPG, 8th in the SEC
Hired at Penn State:
2013: 26.7 PPG, 7th in the Big 10 (the year before Shoop was hired)
2014: 18.1 PPF, 1st in the Big 10
2015: 21.8 PPG, 7th in the Big 10
Then his career hit a bump when he came back to Tennessee to take a job with Butch Jones where he never really let Shoop run the defense he wanted to run.
Finally his time at Mississippi State:
2017: 20.9 PPG, 5th in the SEC (the year before Shoop was hired)
2018: 13.2 PPG, 1st in the SEC
More from Titan Sized
So basically everywhere he has gone he has elevated the talent and turned bad defenses good or made good defenses great. As a DC his defenses have been the top of their conference more frequently than they have been in the bottom half which is quite an achievement considering he had to match up with teams like Ohio State, Michigan, Alabama, LSU, and Georgia while at less talented universities.
It isn't a stretch to think that when the time comes for Pees to retire that the Titans will look toward one of the better DCs in college football to see if he is looking for a chance to upgrade.
This isn't a campaign to demand Shoop to replace Pees, all I am doing is passing along this interested information and I want you to keep it in mind next offseason for both the draft and potential coaching hires.