Tennessee Titans 6th best option in the 2019 NFL Draft: Clelin Ferrell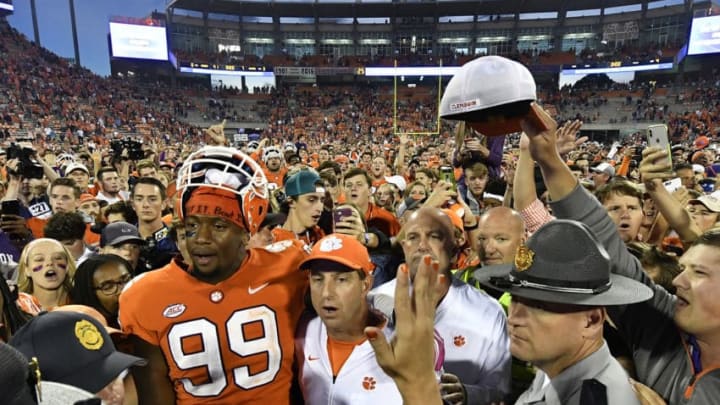 CLEMSON, SC - OCTOBER 20: Defensive end Clelin Ferrell #99 and head coach Dabo Swinney of the Clemson Tigers embrace at midfield while surrounded by fans singing the Clemson Alma Mater during the football game at Clemson Memorial Stadium on October 20, 2018 in Clemson, South Carolina. (Photo by Mike Comer/Getty Images) /
As we close in on the top-5, let's take a look at an EDGE that Tennessee Titans GM Jon Robinson will love.
The question I keep coming back to when I write these entries is:  is EDGE really the Tennessee Titans biggest need in the 2019 NFL Draft?
When you look at it on the surface, the Titans do have a bona fide talented EDGE in Harold Landry. His counterpart will change depending on the down and distance, but having Sharif Finch on the field for runs and Cam Wake on the field for pass rush downs isn't a half bad plan.
Mix in Kamalei Correa as a versatile depth piece and you have one of the better EDGE groups that the Titans have had in the last few years.
So why does EDGE keep coming back up? Well for starters, this is probably going to go down as a class where a handful of front seven picks in the top-20 end up making more than one Pro Bowl.
Very rarely do you have good depth at a position like EDGE, so when it is available you have to jump on it.
The other big sticking point is that in the AFC South you have to find a way to put Andrew Luck, Nick Foles and Deshaun Watson on the ground. To do that, you need to be able to get to the QB from all angles.
That is why four of my top six players on this list are player who will line up in the trenches and provide a pass rush upgrade for the Tennessee Titans.
First, a quick reminder on what this list really is and who is eligible:
-Nick Bosa, Quinnen Williams and Josh Allen will be impossible to land barring a trade into the top-3 or 4. They can't be included in this list.
-This is a list specifically on which of the players available make the Tennessee Titans better?
-Don't treat this as a big board, some positions won't be brought up because there is no one talented enough that can come in and be an instant improvement over what the Titans already have.
-While long term help is important, consider what this player does for Tennessee short term and if they will help reduce the hit of free agent departures in the future.
More from Titans Draft
Which player is the 6th best option for the Tennessee Titans in the 1st round?
Clelin Ferrell EDGE, Clemson
It isn't hard to understand why Jon Robinson will love Clelin Ferrell.
As soon as Ferrell took the starting EDGE job at Clemson in his redshirt freshman year, he has only continued to get better and better every year.
That isn't hyperbole either, it is quantifiable. In each of his three years as a starter, he annually had more tackles for loss, sacks and forced fumbles than the season before.
As a 44-game starter he ended his career with 50 TFLs and 27 sacks. Those career numbers are good for second and third best in the ACC, capped off by a year where he led the ACC in sacks and TFLs.
He is a team captain and a two time national champion. Coaches rave about his work ethic and his durability is a testament to his conditioning work.
So you have an extremely productive EDGE who is a team captain, a two-time national champion, technically refined, and a hard worker. What is the catch?
More from Titan Sized
Honestly there isn't one. Does he show the flash and athleticism to be an elite pass rusher at the next level? Maybe not. But does he really need to be that caliber of player?
Would it be the worst thing in the world to take a guy who consistently gets anywhere from 8-10 sacks per year as the number two EDGE on this defense? No, that would be great and it would help round out a front-four that is just one more interior disruptor away from an elite unit.
It isn't cool right now to like Ferrell because he is a known commodity. He is a very good EDGE with technical refinement and who will be great in a locker room. Even if he is just an above average athlete, you still get a player who can play 80% of the snaps in a season and you get him on a cheap deal.
That volume, talent and cap flexibility will help the Titans both during the season and when trying to add talent in the offseason. While many people are quick to knock Ferrell out of the top-15, I think that would be a mistake.