Tennessee Titans need to read the tea leaves from the AFC South playoff matchup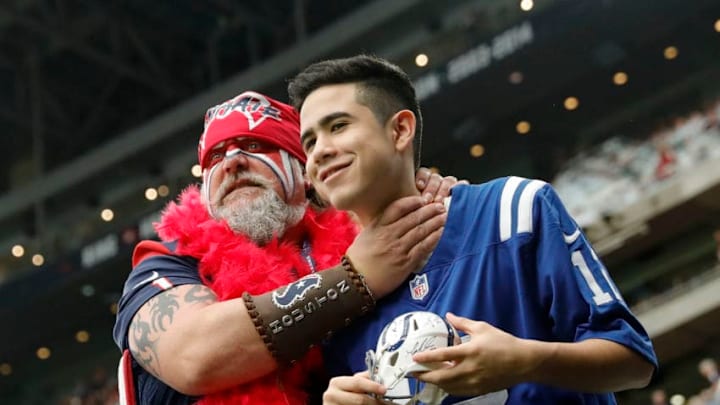 HOUSTON, TX - JANUARY 05: Indianapolis Colts and Houston Texans fans have fun before the game during the Wild Card Round at NRG Stadium on January 5, 2019 in Houston, Texas. (Photo by Tim Warner/Getty Images) /
What the Tennessee Titans should have learned yesterday.
The Tennessee Titans path to victory in the AFC South is clear, but that doesn't mean it is easy.
Last night the Indianapolis Colts beat the Houston Texans in a game that was never close. If you had watched the two this season, this wasn't a difficult game to predict.
For the Texans, Deshaun Watson showed that when Nuk Hopkins isn't allowed to push off and get free, he is an ineffective quarterback. Some people want to push the narrative that he is part of the new era of great QBs, but ultimately he is a guy who relies on All Pro talent at WR and his feet to win games.
More from Titans News
I am no knocking that, I think that can win you plenty of games in the NFL but you are a complimentary piece to your WR and not the other way around.
Defensively (and this is the key to this article) the Texans struggled to get any pressure on Andrew Luck at all. Even when they did manage to get in the backfield some Houston DB was falling on the ground allowing a big gain.
And that is the problem. To beat the Colts without a high powered offense, you need a good pass rush and a good secondary. The Texans have a good front, but their DBs are some of the worst in football.
What does this mean for the Titans? Well, the good news is that the Titans have great DBs. Sure, there are some times where they have to play conservatively to keep everything in front of them, but ultimately they are great fits in this defense and make life difficult on opposing QBs to score.
The problem is with the front five. In 2019, the Titans will have lean heavily on Jurrell Casey and Harold Landry to provide a pass rush. Don't get me wrong, that isn't a bad option but I don't think those two alone can foil opposing QBs.
More from Titan Sized
Let's face it, every other DT on the Titans roster besides Casey has been somewhere between bad to worse. They get no pressure and get bullied in their run fits.
On the outside, Derrick Morgan and Brian Orakpo will both be gone but the depth is good. I am comfortable with Kamalei Correa and Sharif Finch as the two backups at EDGE. My big concern is who starts opposite Landry.
In my opinion, the Titans HAVE to go out and make a big signing in free agency at one of these two positions and honestly it shouldn't be hard to do. Look at this list of DL/EDGEs that are scheduled to be FAs this offseason:
EDGEs
-Tank Lawrence, Dallas (10.5 sacks in 2018)
-Dee Ford, Kansas City (13 sacks)
-Jadeveon Clowney, Houston (9 sacks)
-Cameron Wake, Miami (6 sacks)
-Frank Clark, Seattle (13 sacks)
-Za"Darius Smith, Baltimore (8.5 sacks)
-Brandon Graham, Philadelphia (4 sacks)
-Terrell Suggs, Baltimore (7 sacks)
-Trey Flowers, New England (7.5 sacks)
-Preston Smith, Washington (4 sacks)
-Alex Okafor, New Orleans (4 sacks)
-Shaq Barrett, Denver (3 sacks)
-John Simon, New England (2 sacks)
DT
-Ndamukong Suh, LAR (4.5 sacks)
-Gerald McCoy (rumored cut), Tampa Bay (6 sacks)
-Muhammad Wilkerson, Green Bay (0 sacks* injured)
-Margus Hunt DL, Indianapolis (5 sacks)
-David Irving DL, Dallas (1 sack* injured)
That is 18 players that would be solid to great players to line up opposite Harold Landry in 2019. Several will get new deals or the franchise tag, but even then if half of them ended up with their same teams that still leaves some great names for the Titans.
This team desperately needs to find ways to get to the QB and while the foundation is very solid, adding a star in free agency at EDGE/DT then finding another talented young player in the draft at the other position would set them up for success in 2019.
While the big concern is protecting Marcus Mariota, the next biggest point of emphasis this offseason should be getting to the other team's QB.