3 Tennessee Titans who should have been All Pros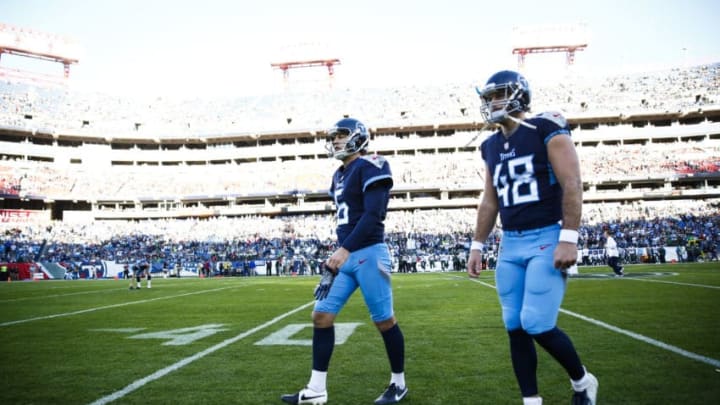 NASHVILLE, TN - DECEMBER 2: Beau Brinkley #48 of the Tennessee Titans and Brett Kern #6 walk off the field before kickoff against the New York Jets at Nissan Stadium on December 2, 2018 in Nashville, Tennessee. (Photo by Frederick Breedon/Getty Images) /
Tennessee Titans that should have gotten more recognition.
The Tennessee Titans didn't make it to the playoffs, but that doesn't mean they didn't have some great individual performances.
Maybe the classical impact positions (EDGE, QB, WR, RB, CB) weren't exactly dominant, but there were a few players who shined.
If I had to pick the very best, these three were on a different level than every one else on a pretty solid Tennessee Titans squad.
Darius Jennings, KR
This one makes absolutely no sense. Despite being on national tv several times, Jennings wasn't elected in favor of someone from a bigger market. I mean look at this:
-Led the the league in return average: Check
-By a wide margin: Check
-Scored a TD on a KR: Check
I mean, there is nothing else he could have done to get recognized, but instead he was snubbed. There is no reason for this other than ignorance.
No one is going to get up in arms about this because he is "just a kick returner" but this was just an absolute embarrassment.
More from Titans News
Kevin Byard, S
Eddie Jackson and Derwin James had strong season, but honestly the reasons they made the list over Byard was because their teams went to the playoffs.
Byard is one of, if not the best safeties in the NFL. He can play the run as well as any safety in the NFL and he was often the last line of defense which helped turned would be touchdown runs into future field goal attempts.
Those things don't show up on paper, but you know what does? Interceptions and TD's allowed. In coverage, Byard had 4 INTs and only 1 TD allowed, no one else had that kind of ratio other than Andrew Adams from TB who had a 4:0 line.
On top of all of that, he also made history this year:
I get that other names had flashier seasons, but Byard is one of the best safeties in the NFL year in and year out. He earned a spot on that list.
More from Titan Sized
Brett Kern, Punter
Kern had a great season and ended up with 42 punts down inside the 20, the most of any player in the NFL with 74 or fewer punts.
I am not going to be too long winded on this because if you watched Kern you know that when it mattered most he helped pin opposing offenses deep in their territory. That led to the Titans defense being able to be aggressive which ultimately resulted in the 3rd best scoring defense in the NFL.
When you can't get turnovers or sacks like the Titans this year, field position plays a huge role in successful defense.