Derrick Henry's huge game creates some questions for Tennessee Titans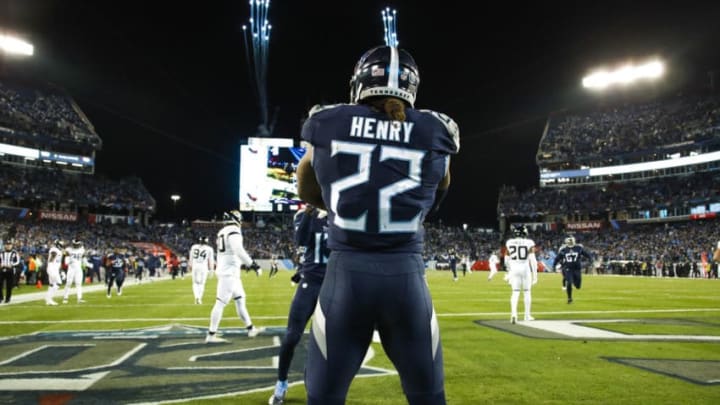 NASHVILLE, TN - DECEMBER 6: Derrick Henry #22 of the Tennessee Titans celebrates a touchdown during the fourth quarter against the Jacksonville Jaguars at Nissan Stadium on December 6, 2018 in Nashville, Tennessee. (Photo by Frederick Breedon/Getty Images) /
The Tennessee Titans are in a weird position with Derrick Henry.
Congratulations to Derrick Henry who had the best game by a running back in Tennessee Titans history, and potentially one of the best performances by any RB in NFL history.
However, with that great game comes some big questions for the Titans. Namely, is Derrick Henry the answer in the Tennessee Titans backfield?
With just three games left in the 2018 NFL season the Titans need to focus on figuring out who and what are the main issues on this team. Through 8 weeks of the season it looked like running back was a muddled mess of guys stepping on each other's touches and no one getting into a rhythm.
Henry would have a solid game one week only to do nothing the next and for Lewis to have a nice game. Still, no running back had any sort of consistency or breakout game to make you think that they were the guy who should take over the starting job.
More from Titans News
Now, we have that thanks to Henry's monster day vs the Jacksonville Jaguars. So, what is next?
Over the final three weeks the Titans face three top run defenses in yards per attempt vs the New York Giants (15th), Washington (12th) and Indianapolis (7th) so you can really find some stuff out about Henry through this stretch run.
Now, do the Tennessee Titans shift their backfield to a true RB1/RB2 backfield or will they still try to share touches?
To me, the answer is clear that you need to start using Henry as an every down player with the exception of 2nd and 10+ and or 3rd and 3+. Dion Lewis is still a solid complimentary back who can give you some good YAC as a receiver, but just isn't doing enough on the ground.
More from Titan Sized
While I still think the interior offensive line needs to improve, maybe with specific plays designed for specific backs will help instead of trying to use both guys on the same type of play.
With Derrick Henry now running behind his pads instead of trying to bounce around, the Titans have a chance to get the hard nosed runner that they have needed all year. Combine that with his home run potential and now every defense is going to have to contend with that and a strong play action game.
The Tennessee Titans have to go into the offseason knowing whether or not they need to invest in running back again. With each passing game it becomes more and more obvious that he may have been getting a raw deal because of how poor the OL has looked and if he could overcome that he could earn a spot as a true starter.
Now all Derrick Henry has to do is find something that every single Titans player and coach has failed to find this year: consistency.