Tennessee Titans dream scenario Week: 13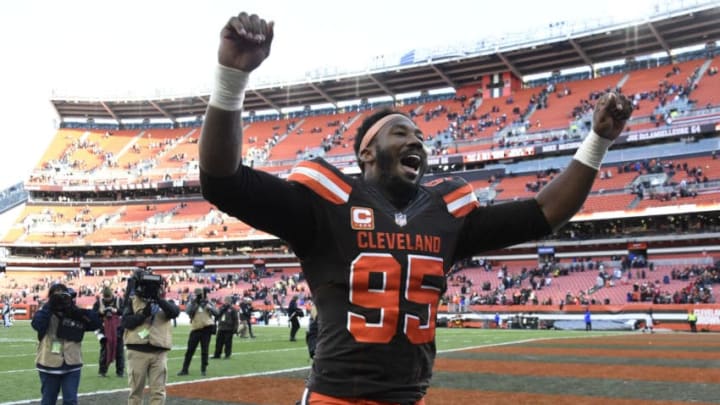 CLEVELAND, OH - NOVEMBER 11: Myles Garrett #95 of the Cleveland Browns celebrates defeating the Atlanta Falcons at FirstEnergy Stadium on November 11, 2018 in Cleveland, Ohio. The Browns won 28 to 16. (Photo by Jason Miller/Getty Images) /
What do Tennessee Titans fans want today?
So the Tennessee Titans are in the unenviable position of needing help to get into the playoffs.
The first and most important thing fans want is obviously a Tennessee Titans win. The Titans have to get to 9 or 10 wins if they have any realistic expectation of making it to the postseason.
With that in mind, what else needs to go right for the Titans to have a great weekend? Let's go through the games. (The highlighted teams are the ones you want to win)
Baltimore Ravens @ Atlanta Falcons
Sort of a blanket rule is fans want every NFC team to beat every AFC team, but this one is big because of the Ravens owning a tie breaker with the Titans. So obviously Titans fans want the Falcons to win.
Denver Broncos @ Cincinnati Bengals
More from Titans News
I don't think the Broncos are a very good team so I don't think a post season run is in the cards for them. If I had to guess I would say that the Titans want the Bengals to lose now so wins down the road wouldn't hurt them as much.
Buffalo Bills @ Miami Dolphins
The Dolphins hurt Marcus Mariota, Taylor Lewan and Delanie Walker so if that isn't reason enough to hate them then I don't know what more you could want. Still, if you are looking for another reason, the Bills are the worse team right now and while both own a tiebreaker it is virtually impossible for Buffalo to make the playoffs.
Indianapolis Colts @ Jacksonville Jaguars
It seems weird to cheer for the Jaguars until you realize that the Colts are on the other end of this matchup. The Jaguars are no longer a threat to the Titans playoff run in terms of positioning, but the Titans need the Colts to lose some games.
More from Titan Sized
Cleveland Browns @ Houston Texans
Titans fans go ahead and strap your hopes to Dangerous Baker Mayfield and Myles Garrett to take care of business against an overrated Texans team.
Los Angeles Chargers @ Pittsburgh Steelers
The Chargers are going to be virtually impossible to knock out of the playoffs at this point and they have 8 wins. However, they have matchups vs Pittsburgh, @ Kansas City, vs Baltimore, and @ Denver to finish out the season. If they find ways to lose those matchups and the Titans go on a great run it could matter, but ultimately this game probably has no meaning.
So TLDR, cheer for:
-Atlanta
-Denver
-Buffalo
-Jacksonville
-Cleveland
-Pittsburgh