Tennessee Titans desperately need receivers to step up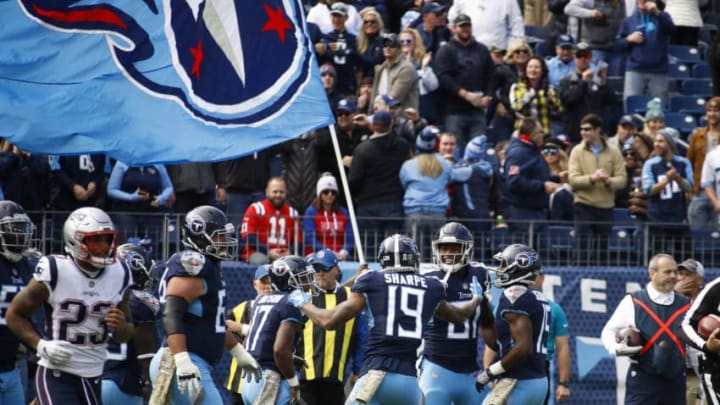 NASHVILLE, TN - NOVEMBER 11: Tajae Sharpe #19 of the Tennessee Titans celebrates scoring a touchdown against the New England Patriots with teamamtes at Nissan Stadium on November 11, 2018 in Nashville, Tennessee. (Photo by Frederick Breedon/Getty Images) /
The Tennessee Titans need role players to make a play.
I don't think I have to sugar coat it at this point, the Tennessee Titans are a one man band at WR.
72 receptions, 1000 yards, 4 TDs, that is roughly the pace that Corey Davis is on this season. For an offense that doesn't like to pass the ball that is a pretty solid year.
On top of that, he is drawing the opposing team's best cover corner every game or garnering some special attention from the defensive backs. In spite of that, Davis is still having a big year and comes up with a big catch in nearly every game.
However the players around him just aren't doing the job.
More from Titans News
As always this has to start with Rishard Matthews who quit the Titans early in the season because he wasn't the focus of the offense. Instead opting to be a free agent for a few weeks and then end up getting 0 catches with the New York Jets during his stint with the team.
Delanie Walker's injury is also a big factor as the tight end probably would have snagged another 800 yard+ season as the team's top option.
The player that was supposed to step up was Taywan Taylor, but he has had a TOUGH season. Whether it is dropped passes, injuries or just not being on the same page with the coaching staff he hasn't made an impact on this team in months.
So what is left? Well, Tajae Sharpe is the team's third leading receiver, but he has only had more than 40 receiving yards in a game, once this season.
Both Cameron Batson and Darius Jennings have had a big play, but that is it. There is nothing sustainable or exciting about what they have done offensively.
At this point, the Titans are in real trouble. There is no WR2 on this offense and it is clearly going to be a need this offseason for the team, but there are still 6 games left on the schedule. What do the Titans for the time being?
The answer isn't as hard as this team is making it look. The plan going forward needs to be targeting Corey Davis early and often. In games where he has been targeted 10 or more times this year he averages 101 yards and a touchdown. Oh, and the Titans are 3-1 in those games.
I don't know if he is a volume guy or what, but I know that when you get him the ball the offense moves a lot better.
Then the next question is what to do when he is getting double covered and he just isn't open. There are really two options:
More from Titan Sized
1. Go to Tajae Sharpe. He is your most reliable receiver and even if he doesn't get any YAC a completed pass is something hard to come by in this offense.
2. Throw to Anthony Firkser. He is the Titans best receiving TE and the Titans are 6 for 6 when targeting him. Forget Jonnu Smith, this is the heir apparent to Delanie Walker on this roster.
The one thing the Titans can't do is rely on the running game. The OL is filled with problems and Dion Lewis and Derrick Henry aren't the guys to make those problems disappear. In fact, the only player who can run the ball effectively on this team is Marcus Mariota.
Sure you have to run at some point, but you should do it after you have forced the opposing defense to respect the pass and not the other way around.
Still, more important than all of this is that the Titans have to be aggressive. When the play calling turns to "trying not to lose" instead of "trying to win" everything goes to hell. You don't have the running game or the consistency to win like that, so stop trying to be that.
If that happens then the Titans should have a good chance in this game. If not, then it might be time to start looking at draft prospects a few months early.