Top 5 notes from Tennessee Titans vs Tampa Bay Buccaneers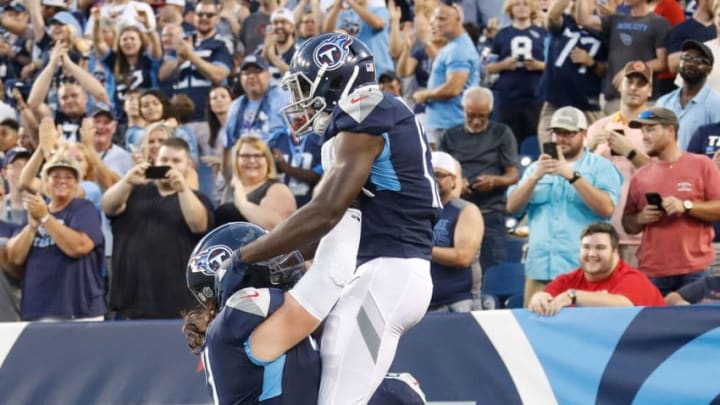 NASHVILLE, TN - AUGUST 18: Dennis Kelly #71 of the Tennessee Titans picks up teammate Taywan Taylor #13 to congratulate him for scoring a touchdown against the Tampa Bay Buccaneers during the first half of a pre-season game at Nissan Stadium on August 18, 2018 in Nashville, Tennessee. (Photo by Frederick Breedon/Getty Images) /
What are the big takeaways from the Tennessee Titans second preseason game.
Through two weeks I won't act like we know who the Tennessee Titans are going to be at the end of the year. However, if you act like the preseason doesn't matter then I think you are doing yourself a disservice.
Formations, play design, snap counts, etc. there are plenty of things to take in and think about. These are the 10 that stood out to me on Saturday.
1. Taywan Taylor looks real.
More from Titans News
Over the last few weeks the Taylor train has been picking up steam and on Saturday the world finally saw what was exciting people in camp.
Whether it was NFL Network or LeBron James everyone took note of the quick screen that ended up with a 47-yard score thanks to some key blocks and Taylor's game speed.
If he can keep progressing and this offense can get him on the field often, the Titans may have drafted a truly functional receiver for the first time in about a decade.
2. JPP was all smoke and no flame
JPP has been a great pass rusher over the last decade or so, but you wouldn't know that from his game on Saturday. After drawing positive reviews in joint practices for his job in one-on-ones he really didn't do anything worth noting on Saturday.
At one point, one of the UDFA TEs was handling him which is the only lasting image of him I have in my head. Taylor Lewan is a great tackle and in this offense he should have an even easier time showing that off because it is based around his strengths and I think we saw that Saturday.
3. Dion Lewis is going to outsnap Derrick Henry.
Derrick Henry is going to be this team's lead back when the starters trot out on to the field most of the time and I get it. He can be a load if you get him in space and he is going to run over defensive backs if he feels like it.
However, the better inside runner and receiver is probably Dion Lewis and we saw his nearly gamebreaking moves vs the Bucs. Between 3rd downs and splitting carries on early downs, I think Lewis will be this team's leader in snaps at RB.
More from Titan Sized
4. Harold Landry and Sharif Finch may be the next wave of EDGEs for the Titans.
While neither recorded a sack, Finch constantly beat the backup OTs he went against and even did a little bit in the first half. He looks like someone who could be a good EDGE3 for his career and maybe a little better than that at his peak.
The man of the offseason Harold Landry had another game with some flashes. When the Titans weren't doing dumb stuff like running X-stunts with him he looked good off the edge. At one point he drew a clear holding call that erased a touchdown.
5. Nick Williams is the player fans want Deontay Burnett to be.
I like Burnett a lot and I think he can stick on this team if he can play special teams for a year. However, right now he isn't the guy who is going to go out and win from the slot and do the little things right. No, that honor belongs to Nick Williams.
Williams is clearly active on special teams and he see him around the ball on punts whether he is receiving it or making a tackle. On offense, he blocked two people on the Taywan Taylor screen that made the TD possible.
That is back to back weeks he has had a block that directly led to a TD and the same could be said about him showing up on teams. He looks like a keeper on this team and he could become a really nice asset who is active on gamedays. Not bad for a guy no one was talking about a month ago.