Tennessee Titans training camp notes: Defense day 3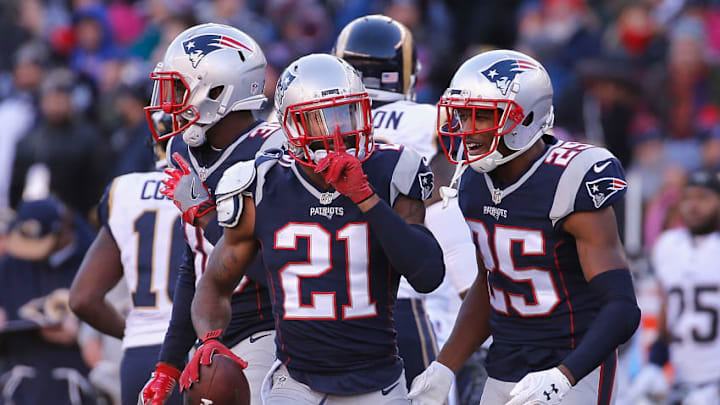 FOXBORO, MA - DECEMBER 04: Malcolm Butler /
Tennessee Titans seems to have nailed one crucial free agent signing.
The Tennessee Titans defense won the tug-o-war today. While the battles are intense and it looks like the sides are evenly matched at times, the defense just makes so many plays it is hard to ignore.
Defensive line:
-I'm going to throw Sharif Finch here because I think he is more of a 4-3 base DE. He reportedly did well today in pass rush drills and had in impressive stop in run defense with the 2nd team defense. I really want him to make this team because I think there is a good chance that he could be a star on special teams given his history as a kick blocker and his athleticism.
-Casey seems to still be the only big man making noise on defense, but I think that will come as we go farther and farther into camp.
More from Titans News
Linebackers:
-Before we start it is important to know that Brian Orakpo missed out on practice today. He has a "banged shoulder" but no one seems too concerned about it. Seems right to keep him out until he is completely healthy.
-Harold Landry took the starter reps today with Orkapo missing. I LOVE this clip from Jim Wyatt's camp notes:
"" I always enjoy watching the o-line take on pass rushers the first day the pads go on. And it's an entertaining drill every day the pads are on. Saturday's session didn't disappoint, and it was highlighted by tackle Taylor Lewan and Landry squaring off on multiple plays."What's up Harold?"," Lewan said to Landry as the rookie lined up across from him on the first play. At the snap, Lewan handled Landry, and he contained him again the second time they squared off as well. What I really liked seeing: Lewan giving Landry tips at the conclusion of each play. Landry later got a chance against tackle Tyler Marz, and Landry won that battle.""
I love everything about this. Lewan handling Landry because he is a star, after each rep giving him tips on how to be better. Then Landry taking those critiques and using them to beat a lesser OT later in the drill.
-Jayon Brown has officially arrived after a great first few days it seems like he is finally getting starter reps with the first team defense.  I have been clear that I think Brown has all the potential to be a starting linebacker for this team especially given his coverage ability.
-Rashaan Evans has had a good few days, but he ended today heading into the locker room. Vrabel says it is probably heat related and we haven't heard anything different, so I will assume that is what it is.
More from Titan Sized
Defensive backs:
-Every day when I am writing this I think about changing the format of this list to put DBs up top. Practice after practice they are the stars of the day.
-Malcolm Butler had a couple of plays in great coverage in 1-on-1s that look like losses because he doesn't have a safety over the top to help him with deep coverage. You just can't defend everything as a DB in 1-on-1s but he did pretty dang well.
Also, if "close" isn't good enough for you, he had another great interception today and forced a fumble at the end of practice.
This is what you dream of when you sign a big name free agent. The Titans got him at a discount after what happened in New England last year and he has done nothing but go after the best the Tennessee has every time he gets a chance. Not only that, but he is picking off passes and making hustle plays consistently earning his reputation as a player who gives 100% in practice and in games.
-Adoree Jackson continues to take turns winning reps against Corey Davis. One rep he will get beaten by a great route and the next he will be physical and break up a pass. The 2017 1st round picks look to be the real deal and they only continue to make each other better.
-Guys like Tye Smith and Kalan Reed made nice plays, but again it continues to be a quiet camp from Sims who I don't remember hearing anything about so far.