Tennessee Titans have the latest versions of Ed Reed and Bernard Pollard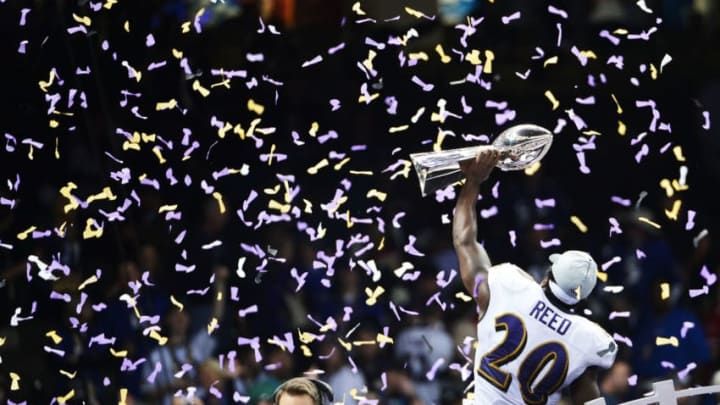 NEW ORLEANS, LA - FEBRUARY 03: Ed Reed /
A look at some Tennessee Titans personnel for new DC Dean Pees.
Super Bowl 47 was won by the Baltimore Ravens, thanks in large part to a great first half from their defense. A defense run by new Tennessee Titans DC Dean Pees.
There are a lot of stars on that defense: Ray Lewis, Terrell Suggs, Haloti Ngata and Arthur Jones all made their mark on that team.
However, it is the safety combination that I want to look at. The Ravens firmly believed in a FS and SS combination that year and they didn't care if opposing defenses knew which one was better in coverage and who was the thumper.
More from Titans News
Who did they have for those roles? Well maybe no one in history has defined a rangy free safety like Ed Reed. A star in every sense that could do anything on a football field thanks to his athleticism and instincts.
Beside him was Bernard Pollard. If Reed was defined by his grace and smooth agility, Pollard was defined by his bone crushing hits and his ability in the run game.
Pees used these two correctly and didn't make dumb mistakes with their usage by trying to pretend to be "balanced". That is the sign of an intelligent DC.
That position group more than any other group on the Titans defense reminds me most of that Ravens team.
Is Kevin Byard the new Ed Reed? Not yet, but a year as the leader in interceptions as a safety and an All-Pro nod sure helps him get a step closer.
Beside him now is Johnathan Cyprien showed in the playoffs that he could be a feared striker. He wasn't afraid to get physical with Travis Kelce and he used his power to break up a 4th and 13 pass on the final defensive snap of the game for the Titans.
More from Titan Sized
Pees knows how to use two players like this and while there was some misuse last year by Dick LeBeau, I expect Pees to dust off some of those old play where he had both of those safeties together.
Can Pees make Byard even better? Can he use Cyp more effectively? He has a better group of CBs as well and a great DB coach, is this going to be the strength of this team going forward?
I don't know the answers to those questions, but right now my money is on both of those players improving in 2018 thanks to a great coaching staff assembled by Jon Robinson.