2018 NFL Draft prospect: Arrion Springs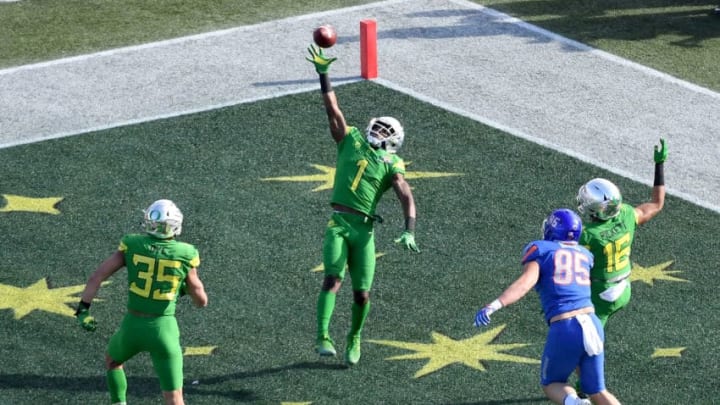 LAS VEGAS, NV - DECEMBER 16: Cornerback Arrion Springs /
A look at a prospect who isn't flashy, but who could provide an answer for the Tennessee Titans in the 2018 NFL Draft.
I don't love that we are looking ahead to the 2018 NFL Draft right now, but after losing two in a row a lot of fans feel like this team is without hope.
While I don't agree, I will try to offer up some answers on some players and some names you may hear connected with the Titans down the road.
Today, I will go over an Oregon CB who could be on Jon Robinson's radar later in the draft similar to how LeShaun Sims popped up a few years ago.
More from Titans Draft
Arrion Springs
CB, Oregon
5'11, 205 lb.
Games Watched: Oregon State, Arizona, Washington, Stanford, Washington State
40 games started, 42 PBU, 2 INT, 3 FF, 8.5 TFL, 2 sacks, 137 tackles
Pros
-Insanely productive, especially with the pass break ups.
-Fights to break the pass up at all points of the attempt. Sometimes knocks the ball out when the receiver is basically down which forces the "catch rule" to call it incomplete.
-Very good tracking the ball in the air, though you really wish he would get more interceptions.
-Has lined up inside and outside, even lining up at safety sparingly.
-Decent blitzer.
More from Titan Sized
Cons
-Not a great tackler, prefers to deter people by being in the right spot. If a RB comes at him with bad intentions then he is in trouble.
-Hips are slow to turn.
-Sometimes has to play catch up with receivers because he is focused on the QB in the backfield.
-Speed could be a real concern.
What is he?
-I have big concerns about his speed and how he plays vs physical receivers. Having said that, if he is in good position when the ball is in the air I expect the pass to be tipped and incomplete. Not a great matchup against any receiver, but against less physical, finesse WRs. CB3 on a good team.
Grade: 79 (Early Day 3)