Tennessee Titans vs. 49ers: Q&A With Golden Gate Sports' Sanjesh Singh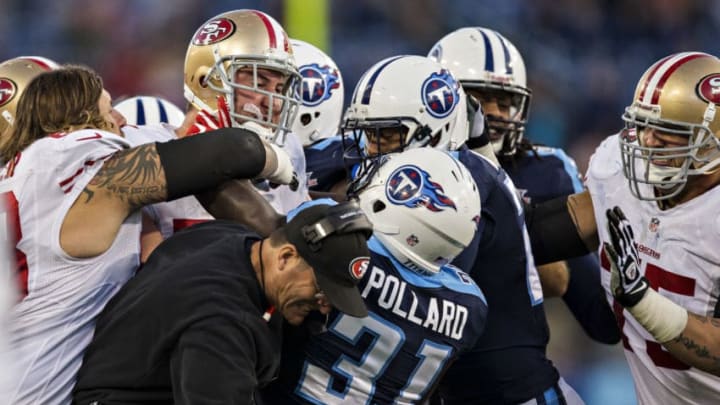 NASHVILLE, TN - OCTOBER 20: Head Coach Jim Harbaugh of the San Francisco 49ers is in the middle of a fight with Bernard Pollard /
We caught up with Golden Gate Sports contributor Sanjesh Singh to discuss the upcoming Tennessee Titans vs. 49ers matchup.
With the Tennessee Titans traveling to San Francisco to take on the 49ers, I talked with Sanjesh Sing, a contributor for Golden Gate Sports who covers the Niners and the Sacramento Kings for the website. You can follow Sanjesh on Twitter and read his interview of our own experts here!
Question 1
Matias Wodner: With Jimmy Garoppolo finally installed as the starting QB, the Niners have won two straight games. Do you feel a sense of optimism from the Niners fan base (and yourself) as it pertains to their future with Garoppolo as the franchise guy going forward?
Sanjesh Singh: The optimism surrounding the 49ers currently is probably the biggest I've seen in a long, long time. Even at 3-10, this team could fight for a wild-card spot next season. Brian Hoyer was never the future and although C.J. Beathard had talent, it was hard to see him as the future as well. Garoppolo comes in with a great learning background from arguably the greatest QB of all time in Tom Brady and his game is very similar to Brady's. Surround Garoppolo with a solid offensive line and playmakers and you'll see why the 49ers made the right choice for Jimmy G.
Question 2
Matias: Garoppolo has been impressive, accumulating 627 passing yards over the last two weeks. Despite this, the team has struggled to score touchdowns, settling instead for nine FGs over that span. The Titans have been adept at holding team to FGs, but can be thrown on by way of volume and giving up short completions. What do the Niners have to do to punch it in more often in the red zone on Sunday?
Sanjesh: This team had some weapons entering the season but it was obvious it wasn't enough. Then the injuries piled on and there was even less talent. However, Garoppolo has managed to connect with guys like Marquise Goodwin and Trent Taylor more frequently but in this game, they need to utilize the tight ends and fullbacks. While rookie George Kittle has been bothered by injuries as of late, veteran Garrett Celek stepped up last week with a 61-yard catch and run and a touchdown. Fullback Kyle Juszczyk also came alive with 3 catches for 60+ yards. With limited receivers, these guys are the key in the red zone.
Question 3
Matias: While the QB position is supposedly set for the future, there are still other positions that are open to interpretation in terms of what the team will do going forward. One of those positions is RB, where Carlos Hyde has enjoyed another solid season in San Francisco. Like the Titans' Derrick Henry, Hyde is a power back, but Hyde has developed into an effective pass-catcher this season. Do you think the Niners keep Hyde after this season at the right cost?
More from Titan Sized
Sanjesh: Besides Jimmy Garoppolo, Carlos Hyde is the best offensive weapon this team has. Even with not-so-talented quarterbacks and a terribly inconsistent offensive line, Hyde is having his best overall season. Drops have been an issue but he isn't used to being a dual threat. However, if he proves to develop a great sense of chemistry with Garoppolo over the next three games (barring injury), I don't see why they don't. He's been effective and for once, mostly healthy.
Question 4
Matias: What is your prediction for Sunday's game? Does Garoppolo get his third-consecutive victory or do the Titans get back on track and hold on to their playoff spot?
Sanjesh: I'll say the 49ers pull out another close win of 20-17. The Titans just fell to the Cardinals and even though they can't be happy losing to a team that isn't very good this season, I think the 49ers come up big. Garoppolo has played spoiler already this season and he will do it again. I expect the offense to struggle to score as they have all season but this defense, even though they are plagued by injuries, are pretty darn good. It will be a great game for sure.