Potential DCs the Tennessee Titans should target for 2018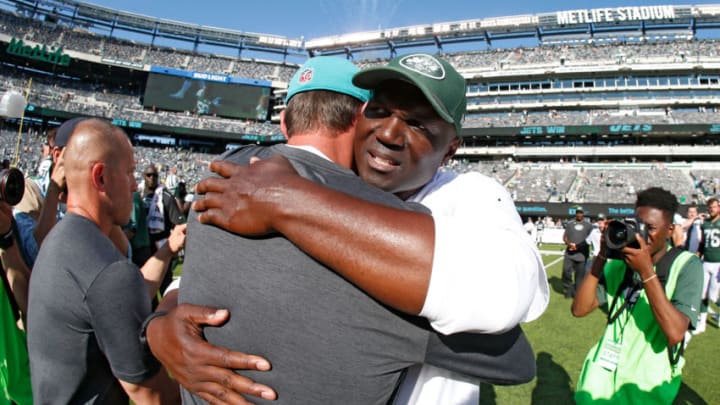 EAST RUTHERFORD, NJ - SEPTEMBER 24: Head coach Adam Gase of the Miami Dolphins and head coach Todd Bowles of the New York Jets meet at midfield after an NFL game at MetLife Stadium on September 24, 2017 in East Rutherford, New Jersey. The New York Jets defeated the Miami Dolphins 20-6. (Photo by Rich Schultz/Getty Images) /
It is time for the Tennessee Titans to start looking for a DC for 2018.
Dick LeBeau is a legend, but maybe there was a reason the Pittsburgh Steelers moved on. Maybe the Tennessee Titans should too.
I don't like writing pieces about coaches getting fired or players getting cut this early into the season, but there is a point where if you are going to call yourself a playoff team you need to act accordingly.
Sometimes that means moving on from a starter, other times that means moving on from a coach. This time LeBeau looks like the odd man out.
More from Titans News
All day long we watched LeBeau call three man rushes and single cover Nuk Hopkins with the likes of LeShaun Sims and Brice McCain. That isn't bad coaching, it is gross negligence.
I could go on and on about missteps that showed up today, but at the end of the day most of the mistakes that were made today could have been fixed if the Titans had a competent gameplan or if they made any adjustments.
The question now shouldn't be "What can Dick LeBeau do to keep his job" it should be "Who replaces LeBeau next year?" That is what I am going to try to answer.
First of all, the trend in the NFL is to bring ex-HCs back into the fold in the area that they thrived in before promoting position coaches. So, I am going to focus on those today.
These are the HCs that make sense to me as as future DCs.
Live Feed
Titans re-signing Jeffery Simmons leaves a Hulk-sized footprint in AFC South /
FanSided
Todd Bowles
-Bowles is currently with the Jets, but it looks like that team is going to end up with a high pick in the draft this coming April.
Bowles was a star coordinator with the Arizona Cardinals winning the first ever Assistant Coach of the year award from the AP.
The former DC is well traveled and has made a lot of issues disappear with the terrible roster that the Jets have had over the last few years. If he can just get back to focusing on one side of the ball his DB expertise would be a real asset to the Titans.
Steve Spagnuolo
-This is cheating a little bit because Spags is actually a DC right now, though he was an HC in the past. However, I think that the whole New York Giants coaching staff is going to implode this offseason and everyone will be trying to find new homes.
Spags is a star DC who reminds me a lot of Wade Phillips, in terms of his struggles as HC compared to his dominance as a DC. He has made the Giants defense into a top-5 unit in two separate stints, maybe it is time for a trip to Nashville.
More from Titan Sized
Chuck Pagano
-Another coach with a lot of experience with secondaries, Pagano is obviously the HC of the Colts right now.
Pagano made a good Ravens defense great when he took over in 2011. He quickly parlayed that into a HC job with the Colts where he started strong but proved ultimately that he needed a good GM and a great OC to cover up for his deficiencies.
Luckily that wouldn't be an issue with the Titans as he could just focus on the defense and he could spend a whole draft adding talented prospects.