Tennessee Titans vs Carolina Panthers, who stood out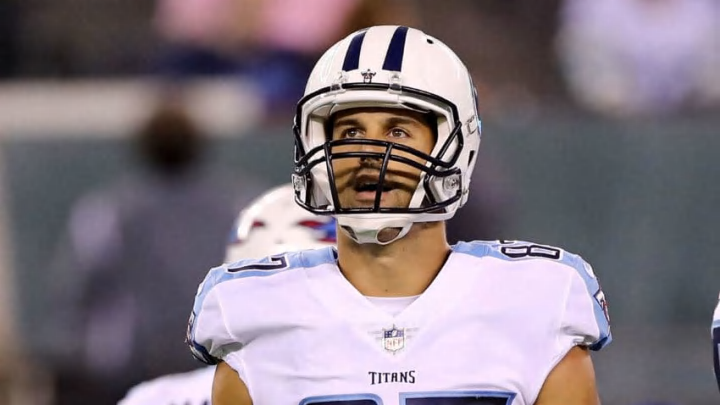 EAST RUTHERFORD, NJ - AUGUST 12: Eric Decker /
Who showed out for the Tennessee Titans today?
The Tennessee Titans held their first joint practice against the Carolina Panthers today and one group stood above the rest.
Now, I could go on and on about individual players, but instead I am going to point to a group that won today.
The most impressive group on the field for either team was the Tennessee Titans wide receivers.
More from Titans News
Now, I had to go back and check that sentence over and over again because I honestly don't remember a time where the Titans wide receivers have been the best group on any field.
And notice I said group. It wasn't just one dominant preformance, many receivers did some nice things.
Eric Decker

Easily the star of the day for me. Paul Kuharsky did a great job highlighting his day from individual drills all the way to one-on-ones in this video.
It wasn't just one play though, he consistently beat everyone from veterans to younger guys with his size, speed, hard cuts, and strong hands. This is the Eric Decker that Peter King said could end up being a difference maker for the Titans and potentially ending up with more than 10 touchdowns.
Decker left practice later with an ankle thing, but Mike Mularkey assured everyone that there was nothing to worry about. Still, I don't know that I would let him practice tomorrow.
Taywan Taylor
Taylor was a nightmare. He looked like he was going full speed while everyone else was in slow motion.
Paul Kuharsky has a video on his timeline showing Taylor stacking Captain Munnerlyn and burning him deep. He should have had a touchdown if Alex Tanney had thrown a better pass and kept it in front of him.
The Titans themselves put this video out of just breaking Luke Cole down and getting easy separation.
He was just too good for everyone that tried to cover him today, from rookies to star veterans.
Rishard Matthews
Matthews had a good day, though maybe not with the splashy plays that others had. It is interesting to see him just blaze by Zack Sanchez here without even really using a double move.
Sanchez who had a huge cushion on him and just couldn't flip his hips and keep up with the Titans leading receiver.
Nothing summarizes the domination by the Titans wide receivers like this quote from the Panthers players themselves that Cameron Wolfe overheard:
More from Titan Sized
And as someone pointed out, while the Titans did practice with Decker, Matthews, Taylor, Harry Douglas, and Tre McBride (among others), 2 of their top 5 receivers didn't practice today in Corey Davis and Tajae Sharpe.
Frisman Jackson's group is looking good out there from top to bottom. The Titans may actually have a potent group of wide receivers for their first time in decades and I couldn't be more excited about it.