Expect a significant change in Tennessee Titans offense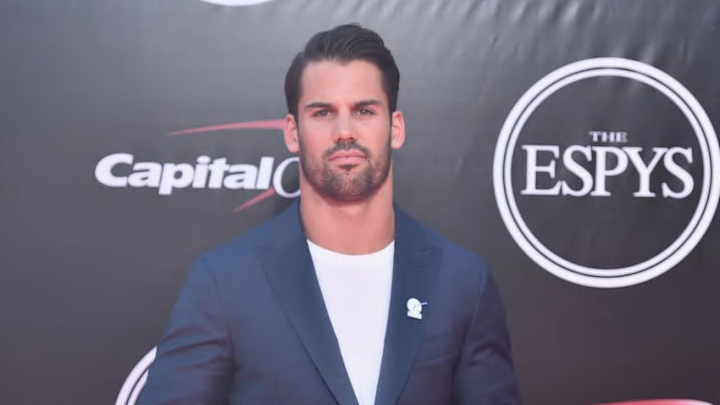 LOS ANGELES, CA - JULY 13: Football player Eric Decker attends the 2016 ESPYS at Microsoft Theater on July 13, 2016 in Los Angeles, California. (Photo by Alberto E. Rodriguez/Getty Images) /
Eric Decker and Taywan Taylor may hint at a real change in the Tennessee Titans offense.
I was sort of reluctant to admit it, but we might see less smashmouth (exotic or otherwise) from the Tennessee Titans offense this year.
With such a big jump in success last year, I almost expected to be underwhelmed by training camp and the lack of any real news. The more I read and hear the more I realize how wrong I was.
More from Titans News
It seems like one of the bigger changes this preseason has been how many three wide receiver sets that the Titans are using. Travis May pointed this out in a string of tweets:
The three wide receivers in these formations are Corey Davis and Rishard Matthews on the boundaries and Eric Decker in the slot.
There were some notes today that Taywan Taylor had almost no reps with the ones today and that he is going to have to earn more reps.
As soon as Eric Decker was signed, I thought it was Taylor who would see the decrease in snaps and that the formation above made a lot of sense. However, Taylor's speed has turned heads and his playmaking ability is continuing to do so through camp.
I would expect that by the time the season starts there will be a healthy rotation in the slot between Decker and Taylor depending on matchups and game plans. Something close to a 60-40 split excluding redzone plays where I believe Decker will get 100% of the snaps.
Having said that, when they need a shot in the arm they may put in Taylor for plays like this:
I'm not sure I would assume a limited route tree from Taylor in the slot, but I do think that there are some nuances in reading coverage and other things at this level that they may lean on Decker for.
Mike Mularkey talked up Decker's ability in the slot and his role as a teacher to Taylor after practice saying:
So the quick notes from today on the wide receivers are:
-Eric Decker still has it.
-Corey Davis looks great in his first day. (He also stayed after practice and caught passes from other players AND the JUGS machines for what it is worth)
More from Titan Sized
-Taywan Taylor had limited reps, but he exploded when he was on the field.
-Rishard Matthews was quietly dominating, especially in 1-on-1s.
With all that in mind, I would be doing my best to find a way to feed them all too.
Oh and by the way Marcus Mariota broke out a long run today, Derrick Henry looked great and DeMarco Murray looks like he has a new found optimism and love for football. So yea, today was pretty great.