Tennessee Titans sign Erik Walden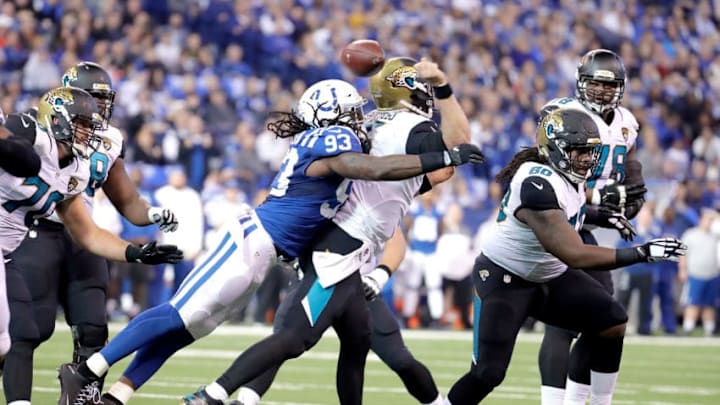 INDIANAPOLIS, IN - JANUARY 01: Blake Bortles /
Another deal done for the Tennessee Titans, this one for pass rusher Erik Walden.
Well, I think this is one of maybe two or three more moves that we could see over the next 10 days. The Tennessee Titans sign Erik Walden.
There it is from Rapoport just a few minutes ago, and a lot of people are quick to point out that last year Walden would have been the Titans leading sacker last year and that is surprisingly true.
The journeyman edge rusher has been around the NFL in his career making tackles with the Kansas City Chiefs, Miami Dolphins, Green Bay Packers, and Indianapolis Colts.
More from Titans Free Agency
Over in his four year stint with the Colts he tallied 23 sacks including 11 last year.
2016 was his best year by far, and he was rumored to be talking with the Titans earlier in the offseason.
I have to wonder if Jon Robinson had a number that he was comfortable with and he has just been waiting on Walden to either take a deal or leave it before camp started. Like I said last night, I expect more contract movement from Robinson over the next few days.
One word of caution about Walden, while he is coming off of his best year (and may have found something) his career hasn't been stellar. Look at his production (yellow is below NFL average, blue is somewhere in the middle, green is good, dark green is great):
That is from Jim Cobern of course who keeps detailed metrics on just about everything you could imagine.
More from Titan Sized
One final thought of optimism is that he may be the best the Titans could do at this point. For all of my interest in Marcus Smith, he hasn't proven he can have a breakout season like Walden had last year. Justis Mosqueda said as much yesterday:
So I think it was about as good of a signing as you will see in July and I would imagine that his role is pretty clear as a DPR (designated pass rusher) behind Brian Orakpo. I am excited to see just what he looks like in camp.