Former Tennessee Titans Center Kevin Mawae Is A Hall of Fame Finalist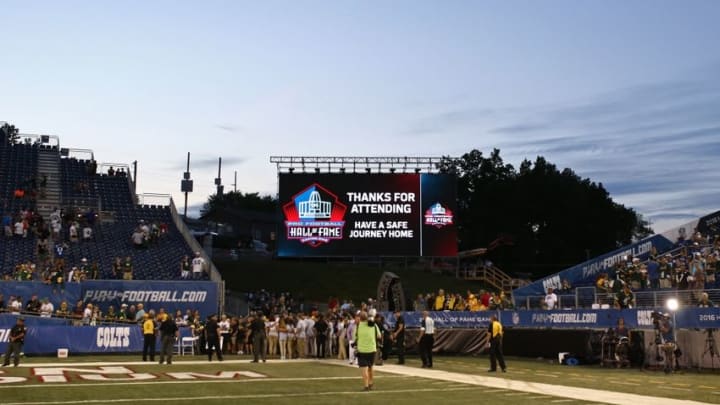 Aug 7, 2016; Canton, OH, USA; A general view as fans leave the 2016 Hall of Fame Game at Tom Benson Hall of Fame Stadium. The game was cancelled due to safety concerns with the condition of the playing surface. Mandatory Credit: Aaron Doster-USA TODAY Sports /
Kevin Mawae, one of the best centers of all time, has been named among 15 finalists to be enshrined into the Pro Football Hall of Fame. Mawae is now in his third year of eligibility for the Hall, but he's likely to get in this year or in the near future.
Mawae might be most remembered around football circles as a New York Jet. He spent most of his career in the Big Apple blocking for Curtis Martin and protecting the likes  of Chad Pennington and Vinny Testaverde. But for Titans fans, many will fondly remember him from his time in Tennessee.
Mawae spent four seasons in the two tone blue from 2006-2009, was part of the 13-3 2008 team, and paved the way for Chris Johnson's 2,000 yard season. Throughout his career, Mawae blocked for a 1,000 yard rusher in 13 out of his 16 seasons (five different running backs). All that considered, it was no surprise that he was recognized as the all-decade center for the 2000s, joining a list of legends that included Dwight Stephenson, Jim Otto, and Chuck Bednarik. And it's no surprise that he'll be in the Hall of Fame sooner than later.
Mawae changed the way the center position in football was played. He was a cerebral player, but as much a mauler as you would find in the 2000s. He could pull in the run game and lead block like no one else. He was a leader on the field and off the field.
It wasn't a surprise that CJ2K didn't have nearly the same success of his first two years after Mawae left. The Titans have been trying to fill the gap left by his departure ever since. They attempted to solve the issue with players like Fernando Velasco, Brian Schwenke, and Andy Gallik, but it's come up way short. Ben Jones seems to be a capable center, but the Titans might never have a center quite like Mawae, even if he was in the twilight of his career during his time here. Let's appreciated what we once had, and hope he gets his shrine in Canton soon!
More from Titan Sized