Media power rankings: Week 17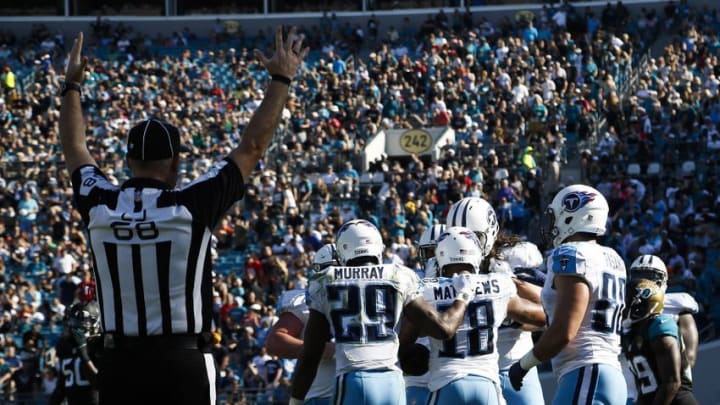 Dec 24, 2016; Jacksonville, FL, USA; Tennessee Titans wide receiver Rishard Matthews (18) celebrates with his teammates after scoring a touchdown in the second quarter against the Jacksonville Jaguars at EverBank Field. Mandatory Credit: Logan Bowles-USA TODAY Sports /
A common theme around the media during the early part of the week is power rankings. Whether they are ranking college football teams, baseball teams, basketball teams, or NFL teams it is something that most major outlets do.
More from Titans News
ESPN and NFL.com are no different, and they are the two that I pay the most attention to during the week. They generally use either a composite ranking to get their list, or they have someone assigned to watch every game before they make their list.
So, let's take a look at how those two sites ranked the Tennessee Titans in their power rankings.
(P.S. it took me longer this week to post this because I honestly didn't know how to handle it. I thought about doing a whole separate type of story, but ultimately decided to take my lumps and just show exactly where this team is now)
Live Feed
Titans re-signing Jeffery Simmons leaves a Hulk-sized footprint in AFC South /
FanSided
NFL.com: 18 (Last week 13)
"What a terrible development for the Titans this past weekend. By now, you've heard that Marcus Mariota is out for Week 17 with an offseason of recovery ahead of him. The Titans' poor outing (even before Mariota broke his leg) was disturbing, considering all Mike Mularkey's team had on the line. A Week 17 matchup with the Texans that could've been for the AFC South crown, will now likely be three hours of mediocrity. If Titans fans want that, they can download "The Force Awakens" instead of watching the Savage-Cassel, non-title bout this Sunday. Ah, go make yourself feel better. Go get $20 movie nachos and see "Rogue One" after the game."
-Elliot Harrison
Mariota is injured and that sucks, but the fact is that the Titans offense has sputtered lately. They started the first few drives in shotgun, which I have begged them to do more but maybe the offensive rhythm of opening up with a pounding running game was more important than I realized.
ESPN: 17 (Last week 16)
"Marcus Mariota's injury is a heartbreaker, but no matter what the Titans do in Week 17, this season will be considered a success. It's easy to forget they held the No. 1 pick heading into the 2015 NFL draft (before trading it), and they were just outside the playoff picture this season."
The Titans are a middle of the pack team without Mariota, and probably worse honestly. 17 seems generous, but it should be noted that ESPN is right: this team is a far cry from what it was when it had the 1st overall pick last year.
Jon Robinson did an expert job building this team, let's not get too down and realize just how lucky we are to be where we are now compared to the last half decade.