Marcus Mariota Is Exactly What We Signed Up For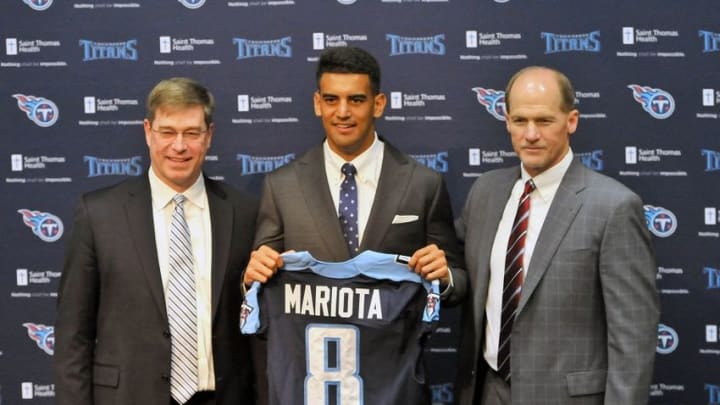 May 1, 2015; Nashville, TN, USA; Tennessee Titans first round draft pick Marcus Mariota (C) stands with executive vice president and general manager Ruston Webster (L) and head coach Ken Whisenhunt (R) during the press conference at Saint Thomas Sports Park. Mandatory Credit: Jim Brown-USA TODAY Sports /
May 1, 2015; Nashville, TN, USA; Tennessee Titans first round draft pick Marcus Mariota (C) stands with executive vice president and general manager Ruston Webster (L) and head coach Ken Whisenhunt (R) during the press conference at Saint Thomas Sports Park. Mandatory Credit: Jim Brown-USA TODAY Sports /
On April 30, 2015, I remember sitting on my couch and yelling at the television, pleading with the Titans to make the safe move and draft Leonard Williams out of USC instead of a quarterback with the second overall pick in the draft. To me, Marcus Mariota was the same old Oregon quarterback that we had seen for years; you know the list of Dennis Dixon, Kellen Clemens, Joey Harrington, AJ Feeley, and Akili Smith to name a few. The now second year man was a system quarterback and in my eyes way behind the other big name quarterback in 2015, Jameis Winston. To me, the Titans were so far from contention that it made sense to build the defense and offensive line and then get the quarterback the next time around. Well, what do I know?
Now, I think that Leonard Williams would have been an excellent pick and probably the best defensive lineman the Titans would have had since Jurrell Casey or, dare I say, Albert Haynesworth. That does not matter now, because with the Second Pick in the 2015 draft the Tennessee Titans Selected Marcus Mariota.
More from Titan Sized
Last year, Mariota had a typical rookie season that ended short due to injury. He had his ups and downs and some trouble with turnovers. Through the first 12 games of his career, Mariota turned the ball over 18 times. Most football fans realize that this is not a recipe for success. Since then, Mariota has played another 12 games and has only turned the ball over nine times. That is an excellent way to improve your numbers. Generally, when quarterbacks turn the ball over less, they have more success.
Mandatory Credit: Mike DiNovo-USA TODAY Sports /
Mariota had a completion percentage of 62.2%, according to pro football reference, in 2015. He has a slightly better completion percentage in 2016 so far with 64.3%. Overall, Mariota is making the case that he is the franchise quarterback that Titan fans have been longing for since Steve McNair left in 2005.
The most important thing for Mariota to continue to do is stay consistent. He is making good decisions and is forcing less passes to his receivers. The thing that is still a concern is his running ability. Having a dual threat quarterback took the NFL by storm in the mid 2000s, but it has become more of an injury concern than anything. As I mentioned earlier, Mariota did not finish the 2015 season due to injury. He should continue to play the way he has his whole career, but that still is an area of concern. The Titans seem to be in good hands at the quarterback position and hopefully that continues.