Quick fix 2017 NFL Mock Draft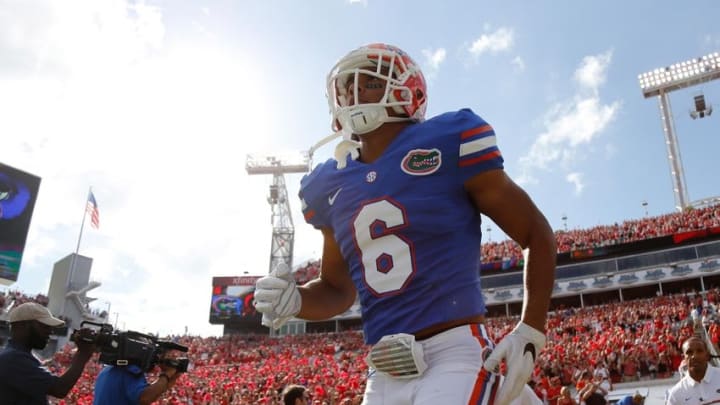 Oct 29, 2016; Jacksonville, FL, USA; Florida Gators defensive back Quincy Wilson (6) and teammates run out of the tunnel before the game against the Georgia Bulldogs at EverBank Field. Mandatory Credit: Kim Klement-USA TODAY Sports /
You know what I love? The NFL Draft. You know what I love more? Setting unrealistic expectations for my team based off what I think is the right thing to do in juxtaposition with what the experts like Jon Robinson see as the best way to run the team.
More from Titans Draft
That is why NFL mock drafts are the best marriage of those two things.
Last week, I did this and I really liked the results. It showed what the Tennessee Titans needed to do to better.
It also showed which positions got them beat. Now, I can take a look at what will make them better, not just what lost them a particular game.
So, today I am going to look at which positions the Titans needed to preform better to make a great win, a blowout. Which positions were the biggest issues in a win against the Green Bay Packers?
As always, thanks to Fanspeak for making this much easier thanks to their mock draft simulator.
Live Feed
Titans re-signing Jeffery Simmons leaves a Hulk-sized footprint in AFC South /
FanSided
1st round: Jabrill Peppers S, Michigan
A dynamic presence in the backfield is important on both sides of the ball. While there are a lot of very good CBs, there are no elite CBs in this draft. I don't see a Patrick Peterson or someone that people do or should love like Mo Claiborne.
What I do see is a dynamic player. I don't know how to use Peppers at the NFL level to make him 100% of the player he was in college. He is a freak among men at the collegiate level, but he won't have that clear athleticism advantage in the NFL.
Still, if you tell me that LeBeau is failing as a DC because he doesn't have the players he needs give him Troy Pola- sorry, I meant Jabrill Peppers, I get them confused.
1st round: Quincy Wilson CB, Florida
Arguably the top CB in this draft, Wilson has had a great year opposite the often overrated Jalen Tabor. Look at what an NFL exec had to say about Wilson in October:
"I think Wilson is the best corner in the country. Tabor gets all of the hype but Wilson is better in every area."
Since then he has only gotten better slowly pulling away from Tabor in a clear and consistent way. Where Tabor relies on guessing routes and risking getting beat on double moves, Wilson plays with a great combo of fundamentals and instincts.
Most importantly, he is 6'1 physical CB, that is smooth in phase. Need filled…
3rd round: Adoree Jackson CB, USC
…Or is it. How can you pass up on Jackson here? He is very raw as a CB, but he is electric as a kick returner and as a punt returner. What this does is it keeps your top 10 selection (Peppers) from having to play the KR/PR spot.
So you get an upgrade on special teams, and a raw CB who some have compared to Adam "Pac-Man" Jones, but without the off the field issues. He has great deep speed, good short area quickness, and can play the ball in the air as well as anyone.
So now they have someone who can play in the slot, on top of two quality outside CBs (McCourty and Wilson) and a dynamic safety who can play FS/SS or in the box.
More from Titan Sized
3rd round: Ryan Switzer WR, UNC
Dynamic athletes. That is what I think this draft is going to come down to for the Titans.
While they have some very good players on both sides of the ball, who do you look at and remember them making wow plays on a week-to-week basis.
Switzer can be that guy, and North Carolina uses him correctly. He needs to play in the slot often, and use him as your motion guy. He can get across the formation quickly to allow your QB to read the coverage, and he can get the occasional speed sweep when the defense stops hustling.
Get athletes on the field and let Marcus Mariota find a way to get the ball in their hands accurately.
4th round: Zay Jones WR, ECU
The token productive player for the Titans. Last year, Tajae Sharpe and Kevin Byard carried this torch. This year, Jones gets the nod as a player who is highly productive and has been for a few years.
I like Harry Douglas and the energy he brings, but if he is your go-to guy on 3rd or 4th down, consistently you probably need some more young talent at WR, if not for now then for the future.