Tennessee Titans Receiver Roles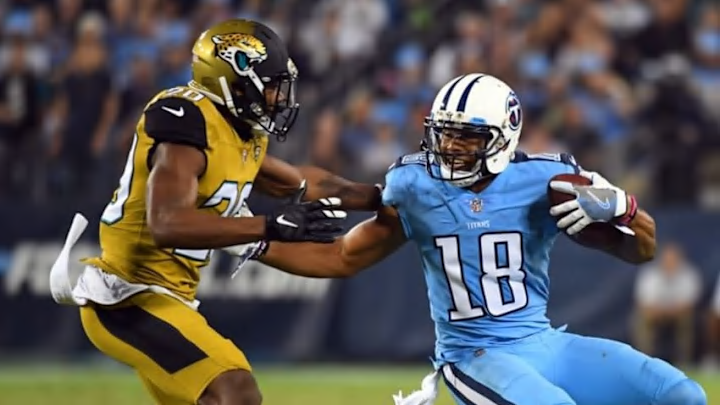 Oct 27, 2016; Nashville, TN, USA; Tennessee Titans wide receiver Rishard Matthews (18) runs after a catch in the first half against the Jacksonville Jaguars at Nissan Stadium. Mandatory Credit: Christopher Hanewinckel-USA TODAY Sports /
The Tennessee Titans are the definition of a smash mouth, run the football down your throat team. That is their identity and they're good at it, but you can't win football games being a one-dimensional team. The Titans have a young rising star at quarterback in Marcus Mariota, and in this post we'll be looking at and breaking down the guys he throws the football to.
The Titans have a good mix of young and veteran guys in their receiving corps. Although none has really stuck out as a true number one guy, they're proficient enough in the system Mike Mularkey and co. designed. Because none of these guys stick out as a true number one guy, I'm noticing a trend in their roles that I thought I would share with you.
More from Titan Sized
Rishard Matthews 
I'd say Matthews is the closest thing to the Titans number one receiver. He's 27, so he's in the prime of his career. He runs precise routes and the Titans mainly use him to run short to intermediate routes hoping he can accumulate yards after the catch. He does his best work running crossing routes. When he makes his break he does a nice job of creating separation, allowing him to rack up the yards after catch.
Kendall Wright
Kendall Wright was the team's first round pick in 2012. He started his career off strong but began to struggle when coach Wiz came to town. Now, at age 26, he's in his prime, healthy and looking like his younger self again. There's a couple of things Kendall has going for him that the other receivers don't: he's explosive off the line of scrimmage, he can read defenses and find the open zone, and he can use his speed and ball tracking skills to be somewhat of a deep threat off the play action, which we're starting to see more of. The Titans normally use him in the slot and even have special plays designed for him.
Delanie Walker
Delanie Walker is the team's tight end, and was their leading receiver last year. Not only that, he led all tight ends in many categories and broke franchise records as well. Although he spent most of his career in San Francisco as a back up, he is a seasoned vet and he can do anything he is asked to do. He can block, go long, catch underneath, play in the slot or with his hand down in the dirt. He's also extremely fast for a big man. He puts defenses in predicaments a lot of times because most linebackers are too slow to keep up with him and most defensive backs are too small to cover him. His role is Marcus Mariota's security blanket.
Tajae Sharpe
Tajae Sharpe is a 5th round draft pick out of last year's draft, and classified as the team's number two receiver. Coming out of college, he was praised for his excellent routes and good hands, but some knocked him on his lack of athleticism. After showing off during the preseason, he hasn't been heard of much to the halfway point in the season, and that could be because of his lack of athleticism not allowing him to create separation from defensive backs.
Andre Johnson 
Andre Johnson is THE veteran presence on this team. One of the league's greatest receivers of all time. He used to give the Titans fits when he played with Houston, but now he's a member of the Tennessee Titans. His role with the Titans is a breather role, giving the starters a chance to catch their breath. But he's also the go to guy when a big play is needed. He caught the game winning touchdown in triple coverage in the win against Detroit and when the Titans needed a key first down against Indianapolis, Andre was in the game and Mariota already knew where the ball was going (although he didn't catch it).
Harry Douglas
Douglas is the other veteran presence on this team. When Kendall Wright is hurt, he fills in and does some of what Wright would do. Douglas has been in coach Terry Robiskie's offense for a long time, so his biggest role is being an extra set of eyes for the coach, helping guys learn and execute the system better.