Are you happy with Amy Adams Strunk?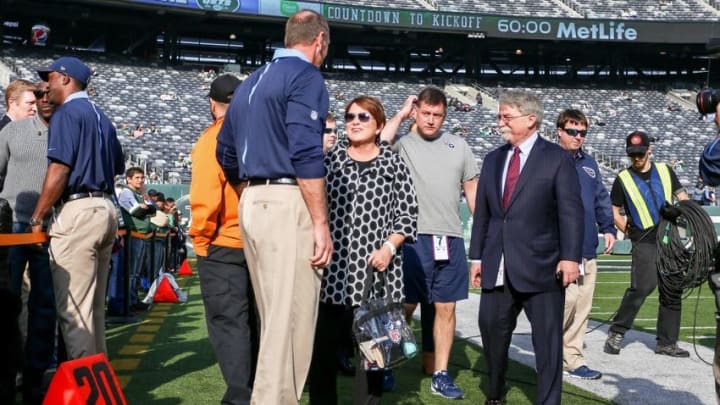 Dec 13, 2015; Tennessee Titans controlling owner Amy Adams Strunk and interim head coach Mike Mularkey meet before their game against the New York Jets East Rutherford, NJ, USA; at MetLife Stadium. Mandatory Credit: Vincent Carchietta-USA TODAY Sports /
Amy Adams Strunk was a relative unknown this time last year. While she has always been around the team, hardly anyone in the fan base could pick her out of a lineup.
More from Titans News
This was a big problem in the fan base for a lot of people. With teams like the Denver Broncos with Jon Elway, the New England Patriots and Robert Kraft, the New York Giants and the Mara family, and the Rooney family and the Pittsburgh Steelers all being very prominent across the NFL landscape, the Titans wanted someone that they could parade out as their champion.
Live Feed
Titans re-signing Jeffery Simmons leaves a Hulk-sized footprint in AFC South /
FanSided
After seeing that list, who can really blame them. Those figure heads above have lead their teams to 7 of the last 12 championships. The Titans wanted an owner with a clear vision and attitude to come in and lead this ship out of troubled waters.
Fast forward to a year later and he has put her fingerprints on this team as much as anyone in recent years, and she has started getting her face out there more.
While she isn't going on NFL Network or doing ESPN spots, Strunk has been very good about turning her image around. She is showing up at team functions, going out to talk with ticket holders, and even welcoming players into the facility.
Just the other day I saw a picture from training camp where she was talking to first round pick Jack Conklin and instead of the steely demeanor she has had in the past, she had a big smile and so did he.
More from Titan Sized
So far, her moves have been to get rid of Ken Whisenhunt, hire Jon Robinson and to stay out of his way. While we may not have wanted Mike Mularkey to be the replacement for Whisenhunt, you can hardly say that so far the team doesn't look much better.
Suddenly, this team has a clear identity thanks to Mularkey. They are going to knock your teeth out with their pair of hammer running backs, and then while you are picking them up off the turf Marcus Mariota will shoot a laser right by you to one of his receivers, or he will just outrun your linebackers to the edge.
If you don't think they have the team to do that, then look around. They have an offensive line with three first rounders, a veteran center and a very competitive battle for the left guard position. A group of offensive weapons that include Derrick Henry, Delanie Walker, DeMarco Murray, Dorial Green-Beckham, Kendall Wright, and Rishard Matthews.
Then, you have to worry about a defense coached by Dick LeBeau featuring Brian Orakpo, Jurrell Casey, Derrick Morgan, Avery Williamson, and a finally healthy Jason McCourty. Not to mention a stacked load of talent backing these guys up.
That roster is largely thanks to Jon Robinson (a Strunk hire) and his ability to quickly rebuild this team in just around 7 months. This team has a solid foundation, a potentially high level quarterback, a devastating running game, and a well coached veteran defense, not to mention two 1st round picks in 2017.
So, the question is has Strunk done enough to earn your trust? Has she at least changed your opinion on her. For me at least, it looks like she wants to win and she is convinced that she has a way to do it. That is enough for me right now, and this might be the beginning of something very fun for Titans fans.