2017 NFL Draft watch: Jarrad Davis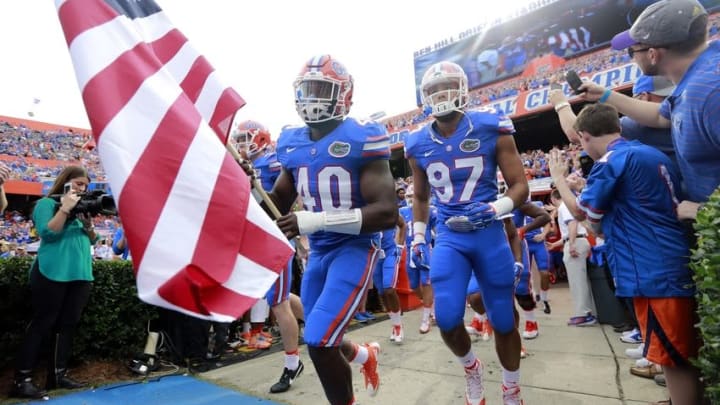 Nov 21, 2015; Gainesville, FL, USA; Florida Gators linebacker Jarrad Davis (40), defensive lineman Justus Reed (97) and teammates hold a flag as they run out of the tunnel before the game against the Florida Atlantic Owls at Ben Hill Griffin Stadium. Mandatory Credit: Kim Klement-USA TODAY Sports /
There isn't a lot of news going on in the NFL right now and instead of forcing some new content out there, I think it would be fun to look at some big names in the 2017 NFL Draft.
More from Titans Draft
There are a lot of different ways to look at the 2017 NFL Draft. You can look at a player for the Tennessee Titans and their two 1st round draft picks. You can look for a player who might be a concern in the division. You can look at a player who is a lock to go to a team projected to have a higher pick like the Cleveland Browns. You can even look at a player from a value standpoint to see what the Titans could get in a trade if he was still available at their pick.
So, no player is off limits so just sit back and enjoy reading up on the top players in the 2017 NFL Draft and plan your college television viewing schedule to accommodate the players you want to see most.
Live Feed
Titans re-signing Jeffery Simmons leaves a Hulk-sized footprint in AFC South /
FanSided
Who?
Jarrad Davis is probably the best defensive player on Florida right now. Some people might argue Jalen Tabor should be that guy…but they just have no idea what they are talking about. Jarrad Davis is probably the polar opposite of Tabor in terms of physicality and demeanor, but we will get to Jalen Tabor's flaws some other time.
What does he do well?
Davis isn't necessarily the biggest guy getting off the bus at 6'2 230, however he may be the best height/weight/speed guy of anyone on the field. He is a flow and hit linebacker that really should intimidate offenses with how well he can move side to side.
Don't get confused and think of him as Zach Brown 2.0, because when Davis gets his hands on you, you feel it. He is a head knocking linebacker who treats every running play like 4th and 1, which is exactly what you want from your linebacker.
Again, don't put limitations on him. For as much as I have said about his potential as a run stopper, he can definitely play the pass too. He looks smooth in zone coverage when he can keep his eyes on the QB and has the size and speed to carry a tight end down the seam.
Where does he need to improve?
I would really like to see him do a slightly better job keeping his hips from opening as much in zone coverage. Not because he can't turn and run with a guy, but because he can get crossed up now and then.
With the NFL having more young, flex tight ends like Eric Ebron, this is an area he could stand to improve in.
Does he fit with the Tennessee Titans?
Absolutely. This is exactly the type of player that Dick LeBeau covets and I would probably compare his game most to Lawrence Timmons. He is a fast flow linebacker that plays with aggression and can do a little bit of everything.
He wouldn't be limited by scheme with the Titans either. He has the skills to play WILB and EDGE in a 3-4 if he needs to and he can play any of the LB positions in a 4-3 really. He would be an ideal replacement for Wesley Woodyard if the Titans stick with the 3-4.
More from Titan Sized
Potential selection range?
This was the year where an off the ball LB was supposed to go top-5, but injuries prevented that. So, what is the ceiling for that type of player? The last guy to really shatter that top-10 ceiling was Luke Keuchly in the 2012 NFL Draft going 9th.
Has the NFL seen his impact enough to say that a player of that caliber can be a top-5 pick? I don't think so. In fact, I can see people talking themselves out of him in the top-12 due to recent SEC LBs who have been good, but not great combined with the value in later rounds.
At the end of the day, a middling team like Dallas, Chicago, Tennessee, or the Giants could all pull the trigger on him in the middle of the 1st round of the 2017 NFL Draft.