Why not Jeremiah Poutasi?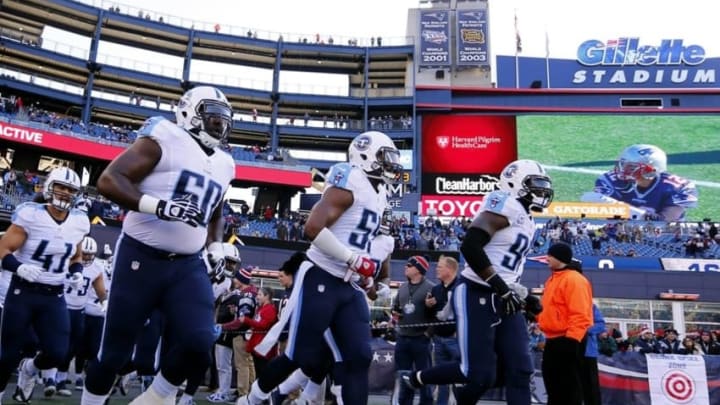 Dec 20, 2015; Foxborough, MA, USA; Tennessee Titans guard Quinton Spain (60), inside linebacker Zach Brown (55) and outside linebacker Brian Orakpo (98) take the field before their game against the New England Patriots at Gillette Stadium. Mandatory Credit: Winslow Townson-USA TODAY Sports /
I was a big proponent of Jeremiah Poutasi last year, and I still have some of those same beliefs. While I think Jack Conklin is far and away a better right tackle, I still think that Jeremiah Poutasi's career is far from over and I am not alone.
More from Titans Draft
While the second year man out of Utah may not have a starting spot on the line yet, I believe that he has a chance to become this team's starting left guard.
Look at a quote from Jim Wyatt about the battle for the left guard position:
"…[Quinton]
Spain ended last season as the starter, and he's worked with the first team all offseason. Mike Mularkey said himself that Spain is the favorite, although he quickly reminded "it's early." When the pads come on, I think Spain will hold up in the competition, though. But keep an eye on Poutasi, and Tretola. Poutasi is talented, and Tretola is a big boy.
Brian Schwenke /
has worked some at guard as well and I think he'll be on the team in some capacity. I wrote about Spain this week. He said himself he's even more motivated because he's oftentimes overlooked. He's a serious contender, no doubt."
Live Feed
Titans re-signing Jeffery Simmons leaves a Hulk-sized footprint in AFC South /
FanSided
That is an interesting quote, because the offensive line is about what happens when the pads come on, and from what I remember of Spain he was very good at absorbing contact and redirecting power, but not great going forward.
Someone who was deceptively good going forward was Jeremiah Poutasi. While he wasn't great on the edge because of issues with footwork (likely because he flipped from left side in college to right side) and difference in speed matchups.
However, put him against a 290 lb. defensive tackle and there is no where he will really be mismatched. His pros at guard are:
-He has decent straight line speed and can get to the next level.
-Overwhelming power at times despite some technique issues.
-Can handle bigger defensive ends like Mario Williams well, despite his struggles with rushers who can bend the edge.
-Ideal size and pad level.
More from Titan Sized
While Spain has some positives, if this team truly wants to be built to run the Poutasi is the guy.
Even if he doesn't start at left guard, the Titans should seriously consider a jumbo/goal line package where Poutasi come in between Spain and Taylor Lewan on the left side to form an overloaded line. Taylor Lewan is huge and athletic enough to honestly be a threat as a tight end (enough to force the LB to play in coverage) which could give them an advantage.
I can't wait for the pads to come on to see who will win that guard position, but if I were a betting man I would have some money earmarked for Poutasi and his upside.