Tennessee Titans game rewind: Week 3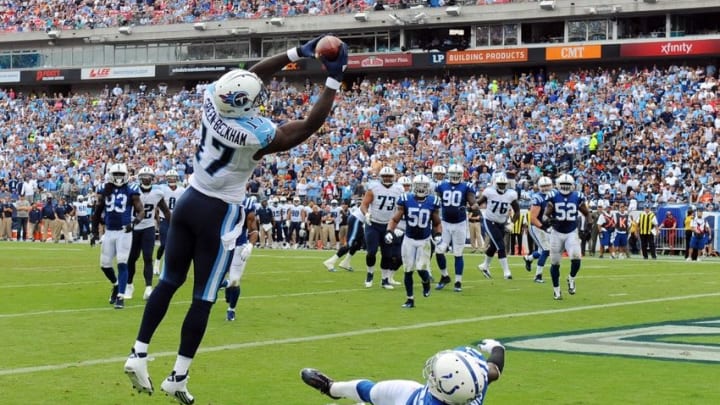 Sep 27, 2015; Nashville, TN, USA; Tennessee Titans receiver Dorial Green-Beckham (17) catches a pass in the end zone during the second half against the Indianapolis Colts at Nissan Stadium. Mandatory Credit: Christopher Hanewinckel-USA TODAY Sports /
The Tennessee Titans have had a very fun and interesting offseason so far. New GM Jon Robinson has brought in big names that fit this team and he made a blockbuster trade to grab an extra first round pick in 2017.
More from Titans News
However, it is easy to forget that the reason Jon Robinson's had the tools to make these moves is because the Tennessee Titans had the worst record in the NFL last year. That allowed them to make a splash in the offseason and set them up to have several new starters.
So, while there is a lot of room for optimism, fans need to be sure that they know what did and didn't work last year and what Mike Mularkey might be looking at in terms of making changes.
I thought a good exercise would be to go back week by week and take a look at exactly what made each game. The good and the bad all coming together in one post where you get a snapshot of what this team should have done and who should have been replaced this offseason.
So, with that out of the way let's take a look at the game film.
Live Feed
Titans re-signing Jeffery Simmons leaves a Hulk-sized footprint in AFC South /
FanSided
Week 3 vs Indianapolis Colts

The Good
-Marcus Mariota again looked good. While he is listed as having two interceptions, one just bounced right out of the hands of Delanie Walker and was returned for a touchdown. Again, he finished with a good completion percentage and he had over 350 yards and two TDs which is impressive.
-Kendall Wright had a nice, consistent day showing how he could be a great performer in a rhythm based offense. Delanie Walker also had another good day, which would be notable if he wasn't a top-3 tight end in the league.
-The big receiver tandem of Dorial Green-Beckham and Justin Hunter did a great job hauling in well placed balls. They had a combined 3 catches for 51 yards and a TD as the rotating #3 receiver.
-Brian Orakpo was an absolute nightmare for the Colts offensive line. Not only did he draw several holding and offsides calls, but he ended up with a big hit on Andrew Luck.
-Perrish Cox showed why he can be a playmaker on this defense. He saw the ball coming out on a pass and drove through the receiver to grab an interception that set the Tennessee Titans offense up nicely. I have to think an overall lack of pressure late in the season resulted in his lack of interceptions.
The Bad
-Another mediocre to bad performance from the Tennessee Titans running game. It is clear now why the Tennessee Titans made such a big effort to fix it. They absolutely can't have a repeat of last year's performance, which is why I am warming up to the idea of the Derrick Henry pick more and more each day.
-Blidi Wreh-Wilson showed why he is so dang frustrating. He was in great position to stop a huge touchdown pass to T.Y. Hilton, but he just couldn't locate the ball. All the athleticism in the world falls short if you can't locate that ball in the air.
-Zach Brown is another player like that. He had some nice plays including an interception, but when he had a gimme touchdown he ran right into Derrick Morgan and Andrew Luck which ultimately ended up in a loss of 4 points which could have been the difference in the game.
-Jeremiah Poutasi had another bad game mixing up the blitz protection by ignoring a blitzing LB for a sack. He needs to do better at guard or else he could be on the bench quickly this year.
More from Titan Sized
Summary
This game just hurts to watch over again. There is no way the Tennessee Titans should have lost this game if they had any semblance of a running game. The defense was causing the Colts to have fits and the passing game was clicking. One interception returned correctly, one broken tackle, one blitz picked up correctly, etc. all could have ended up giving the Tennessee Titans a win.
Instead, it ended up leading them to a 1-2 record which is always tough to overcome for a rookie quarterback, even one as good as Marcus Mariota.