Biggest holes left on the Tennessee Titans roster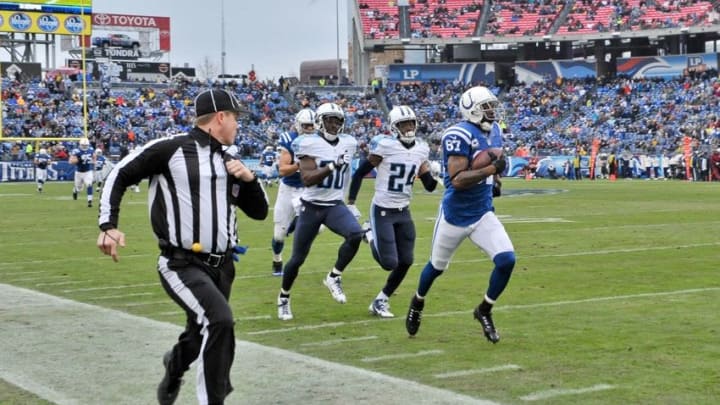 Dec 28, 2014; Nashville, TN, USA; Indianapolis Colts wide receiver Reggie Wayne (87) catches a pass and rushes to the ne yard line against Tennessee Titans cornerback Jason McCourty (30) and Tennessee cornerback Coty Sensabaugh (24) during the first half at LP Field. Mandatory Credit: Jim Brown-USA TODAY Sports /
The Tennessee Titans have done a lot in the offseason, but even the best rebuilds don't go perfectly.
More from Titans Draft
Sometimes you have great players or great fits come in and fill holes on the roster. Other times you have to bite the bullet and find a way to work with what you have at some positions.
Going through the draft, the Tennessee Titans taking some luxury players like Derrick Henry and Kevin Dodd were inevitably going to leave some issues in their wake. However, the key to a great rebuild is getting good players and finding where to play them, not trying to force fits.
So, while the Titans roster is better they still have some holes they need to take care of in the future.
Live Feed
Titans re-signing Jeffery Simmons leaves a Hulk-sized footprint in AFC South /
FanSided
To look at the holes, let's look at the 2017 Tennessee Titans key free agents:
Kendall Wright WR
Wright is a huge question mark here, is he worth what he will ask? Will he take a discount to work with a great quarterback after years of struggling with bad quarterbacks? Does he even want to be in Tennessee any more? All of these questions are huge and unless he has a great year in 2016, the Titans may take the cheaper route to find a slot receiver or focus on developing guys they have like Tre McBride and Tajae Sharpe.
Dexter McCluster RB/KR
McCluster is an odd case. For some reason this coaching staff loves him despite not really knowing how to use him. He has never been productive for this team and is living off of a reputation as a good return man. If the Tennessee Titans have a chance to replace him and don't we will know that Mike Mularkey has a big say in what goes on from a personnel standpoint.
Chance Warmack G
I loved Warmack coming out of college and thought that his bruising style of play was what would reestablish Tennessee as one of the better ground games in the NFL. However his struggle to develop from what he was coming out has been very clear. Nothing would make me happier than to see him turn into a stud run blocking guard next to Ben Jones and Jack Conklin, but if he doesn't then he will have a hard time convincing the team to re-sign him.
So where are the holes?
Right now, I think your biggest holes are:
1. Cornerback
No proven stars here and if Jason McCourty isn't 100% then it could be one of the worst CB units in the league (provided none of the younger guys develop).
2. Outside Wide Receiver
DGB has a lot of skills and the ability to be great if he can be consistent. Outside of that there is nothing that screams star to me. Ideally, you go out and find a stud #1, DGB is your #2, Matthews plays in the slot and you save yourself $9(ish) million annually on Kendall Wright in free agency.
More from Titan Sized
3. Weak Inside Linebacker
Wesley Woodyard was much better in 2016 with Dick LeBeau helping him understand the 3-4 defense better. Horton and LeBeau helped make Woodyard one of the Titans best pass rushers, but he will be 31 at the start of next season and the team could use someone younger and more dynamic there.
This doesn't have to be a 1st round pick and they can let this guy grow behind Woodyard, but unless Sean Spence turns into something great then this needs to be a priority.
4.  Safety
Next year, the starters at safety are penciled in the be Da'Norris Searcy (SS) and Kevin Byard (FS). I believe that Byard has a chance to be very good in this defense, but behind him there is no depth. On the other side, I want to believe that Searcy can reclaim some of what made him great earlier in his career, but there wasn't a sign last year of him being a playmaker.
Key depth is an issue here, and you will probably have to find a starter at SS too.
5. Tight End
Delanie Walker may be the best (non-Marcus Mariota) player on the team. However, he is getting up there in age and you would like to see the Titans rely less on him down the road to extend his career and extend his longevity. A true "move" tight end that is more receiver than blocker could make this a lot easier going forward and it would fit with the current philosophy.