Post trade Tennessee Titans 3-round 2016 NFL Mock Draft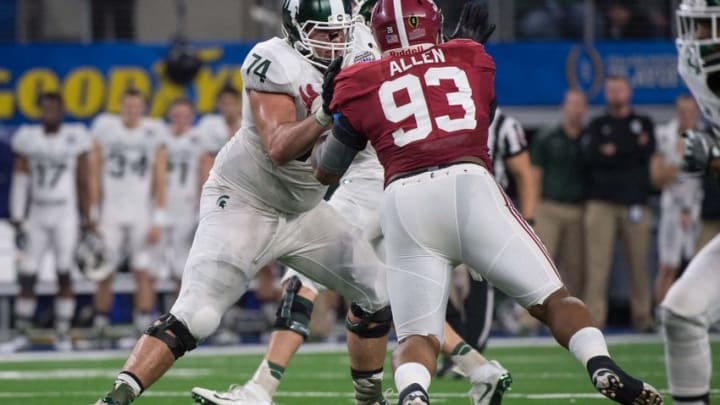 Dec 31, 2015; Arlington, TX, USA; Michigan State Spartans offensive tackle Jack Conklin (74) and Alabama Crimson Tide defensive lineman Jonathan Allen (93) during the game in the 2015 Cotton Bowl at AT&T Stadium. Mandatory Credit: Jerome Miron-USA TODAY Sports /
Huge news this morning from the NFL and the Tennessee Titans. The Titans have made a trade with the L.A. Rams for the top pick.
More from Titans Draft
Here is a quick overview of what was exchanged if you didn't read our (or any other) posts about it:
The L.A. Rams receive:
-1st overall pick in the 2016 NFL Draft

-113th overall pick(4th round) in 2016

-177th overall pick (6th round) in 2016
The Tennessee Titans receive:
-15th overall pick in the 2016 NFL Draft
-43rd (2nd round) overall pick in 2016
-45th (2nd round) overall pick in 2016

-76th (3rd round)overall pick in 2016

-The Rams 1st round pick in 2017.
-The Rams 3rd round pick in 2017.
Live Feed
Titans re-signing Jeffery Simmons leaves a Hulk-sized footprint in AFC South /
FanSided
Remember when?
I wrote a post on this just over two weeks ago and here were my trade parameters:
The L.A. Rams get:
-The 1st overall pick in the 2016 NFL Draft
The Tennessee Titans get:
-The 15th pick in the 2016 NFL Draft
-The 43rd pick in the 2016 NFL Draft
-The L.A. Rams 2nd pick in the 2017 NFL Draft
That was fair value. Well, fair value just went out the window in a big way and the Titans are huge winners here.
Let's draft.
Alright, so now that we know what the Titans have done, let's look at a simulation of what they can get with those picks thanks to the handy dandy Fanspeak draft simulator:
15th overall pick: Jack Conklin OT, Michigan State
The perfect mauler mentality guy that has already been linked to the Tennessee Titans. He is a great mauler at right tackle and has the foot speed to play tackle at the next level. He is neck and neck with Stanley to me for the second overall tackle, and I would be happy with either.
33rd overall pick: Jaylon Smith LB, Notre Dame
The first of many BPA picks I am sure. Smith's arrow is pointing up and if he is medically cleared I could see him just barely falling out of the first round and falling right into the Titans laps. Dick LeBeau likes drafting front seven players with premium picks, not defensive backs so I think he would roll the dice here when asked to choose.
More from Titan Sized
43rd overall pick: Karl Joseph S, West Virginia
Rangy safety who can absolutely pop any offensive player he comes across. However, don't confuse aggression with lack of athleticism, Joseph can play free safety at a high level and he will punish anyone who tries to dink and dunk across the field.
45th overall pick: Tyler Boyd WR, Pitt
A 6'1″ wide receiver who runs some of the most beautiful and consistent routes in this draft class, he would come in and be a great #2 receiver in this offense with DGB adjusting and becoming the number one. The Titans are really one good wide receiver away from have a solid group of pass catchers with Rishard Matthews, Kendall Wright, Tre McBride, and Delanie Walker rounding out that group.
64th overall pick: Ryan Kelly C, Alabama
The best interior player in this draft, Kelly becomes the final piece on the offensive line. Look at this projected lineup:
LT: Taylor Lewan
LG: Ben Jones
C: Ryan Kelly
RG: Chance Warmack
RT: Jack Conklin
Backup interior: Jeremiah Poutasi
Swing tackle: Byron Bell
That is a very good group with a ton of upside.
76th overall pick: Austin Johnson NT, Penn State
Johnson isn't going to blow you away, but he may just blow the opposing center straight into the backfield. Johnson is a high 2nd rounder in most other drafts, but where do you value a nose tackle in a class this deep along the defensive line? The Titans get a steal here, especially if they slowly work him in as a 1-tech and a 1-gaping nose tackle in passing situations as he learns to take on blocks at the next level.
What a haul. The Titans have addressed all their real needs in this draft already. You could argue that they should have forced a cornerback with that top 2nd round pick, but with the five top cornerbacks all gone, you have to take value there.
Also, like I said earlier Dick LeBeau loves improving the front seven and allowing his pressure and blitz packages to make it easier on defensive backs rather than relying on the defensive backs to hold in coverage for extended periods of time (which is always a bad idea).