2016 NFL mock draft of the week for the Tennessee Titans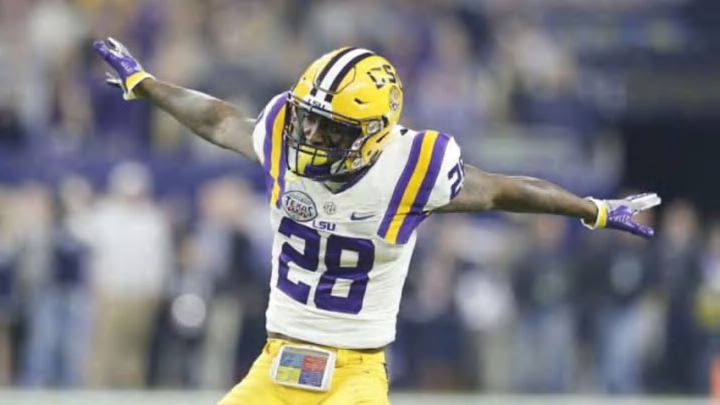 Dec 29, 2015; Houston, TX, USA; LSU Tigers safety Jalen Mills (28) reacts after making a defensive play against the Texas Tech Red Raiders in the first quarter at NRG Stadium. Mandatory Credit: Thomas B. Shea-USA TODAY Sports /
I have preached that free agency should be the focus of Tennessee Titans fans right now given the potential impact they could make in the next few weeks. However, it is also important to realize where the Titans could and should go in the 2016 NFL Draft.
With that said, this is what I believe to be one of the best drafts of this week for the Titans and it accurately portrays where the team should go in the first four rounds of the draft. This is Walter Cherepinsky's 2016 NFL Mock Draft.
More from Titans Draft
1st pick: Laremy Tunsil OT, Ole Miss
This one is easy as the roster is right now. He is clean, safe, great on the field and off, and fits a big need for the Titans. There is no reason why Tennessee should overthink this if they fail to add any significant players in free agency (though I don't think that will happen).
33rd pick: Derrick Henry RB, Alabama
Honestly, I really like this pick if the Titans can improve the offensive line. It is hard to figure out exactly what Henry will be at the next level, but he can stay on the field for all three downs, he is built like a linebacker, and while he is predominantly a straight line guy if he gets into the open field you better have two guys ready to stop him because one won't work.
Live Feed
What does Jeffery Simmons extension mean for Chiefs, Chris Jones? /
FanSided
I also think there is a hidden factor here of fan support. He is an Alabama guy who was their best player for the last two years and some people are crying for him to be the first pick in the draft. Those people are insane, but it is happening none the less.
He is also the Heisman Trophy winner from 2015 and the last guy the Titans drafted that did that had a pretty great rookie year. Having two consecutive Heisman winners on the same team would draw a lot of attention from the college crowd and it might be a key to getting Titans fans to fill that stadium back up.
64th pick: Jalen Mills S/CB, LSU
If you like Jalen Ramsey, but are wary of taking a DB that high, then Mills is your guy. While he isn't a blue chip player, he can do a lot of different thinks and he is the type of versatile DB that NFL teams will crave.
He checks all the boxes: good tape, versatile, can play special teams, played at a blue chip program, etc. There is no reason why he shouldn't be a Titan if he is the BPA in the third round even if they decide to take Ramsey in the first.
More from Titan Sized
98th pick: Rashard Robinson CB, LSU
Robinson is a problem child at LSU with allegations of not going to classes as well as some other off the field issues. However when he did play, he was dominant and even held Mike Evans to just 51 yards in their matchup.
It is likely that Jon Robinson was one of the people in charge of breaking down that film when the Tampa Bay Buccaneers decided to draft him in the 1st round two years ago. So while he may not be that familiar with him, when he is going through his list and sees that tape he should realize just how hard that is to do.
I think he is the perfect developmental guy for the Titans at CB who has the potential to be outstanding in this league if he can get his head on straight. If the Titans think team leaders can help put him in a structured environment it would be fun to see the 6'3 CB lineup as the Titans top corner with Jason McCourty on the other side, Perrish Cox in the slot, Da'Norris Searcy at SS, and Jalen Mills as the FS. That would be a lot of talent in that backfield.