Tennessee Titans have a few reasons to care about Week 17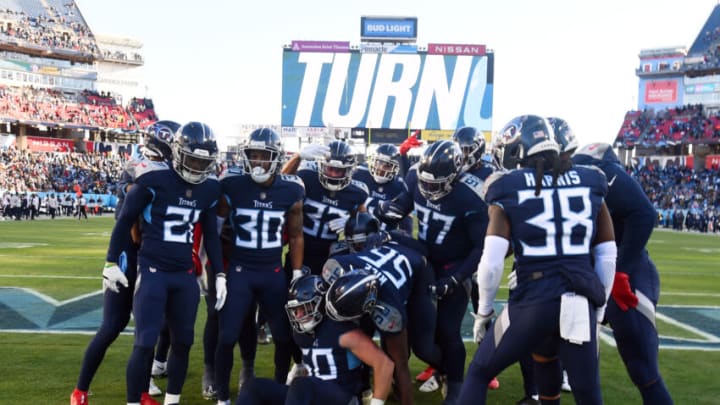 Tennessee Titans Mandatory Credit: Christopher Hanewinckel-USA TODAY Sports /
It has been a long time since Tennessee Titans fans had to suffer through an entire month without a win, but as Mike Vrabel keeps saying, "That's where we are."
Honestly, it is easy to get down about this team when you look at the last month and the decisions being made. However, something that I will talk a lot about this offseason is why this roster really isn't that far away.
There are some holes that need to be addressed, but if the team can just find a way to be as healthy as the average NFL team, they have the talent to run this division for a long time.
But that is something to discuss/argue about after the season. Instead, I wanted to focus on why there are some reasons to watch the Week 17 matchup against the Dallas Cowboys.
Why you should keep one eye on the Tennessee Titans
Anyone who reads my stuff often enough knows that I'm not high on this team as long as Todd Downing is involved in playcalling at any level. However, the Tennessee Titans are going to have a chance to make the playoffs in the final game of the season.
Reading the tea leaves, it looks like Kristian Fulton, Amani Hooker, David Long, and Bud Dupree could all be back in Week 18. That could be the healthiest defense that the Tennessee Titans have had all year, and the Tennessee Titans' skill position players should be healthy too.
The reason why that is important for Week 17 is that we are going to get another chance to look at Malik Willis, Corey Levin, Monty Rice, and Jordan Roos, who are probably going to get playing time against the Jacksonville Jaguars at the end of the year.
Other players like Jack Gibbens and Le'Raven Clark will also get a look and could potentially earn a role in the final game of the season.
While I don't think Ryan Tannehill will be available in the regular season and maybe not even in the postseason, his return along with 9 of the 11 projected starters on defense back could actually make them competitive against a wildcard playoff team like the Baltimore Ravens without Lamar Jackson, a rematch against the Los Angeles Chargers at home, or hosting the warm-weather Miami Dolphins with Tua Tagovailoa potentially out.
However, a big part of their ability to go on a run in the playoffs (or their ability to make the playoffs at all) will hinge on how well those "other" guys do. The Tennessee Titans aren't going to be able to outcoach anyone and it will be entirely up to the talent on the field to win these games, so this could be a career-changing stretch for the guys who are filling in for their injured counterparts.