Tennessee Titans could look drastically different against Denver Broncos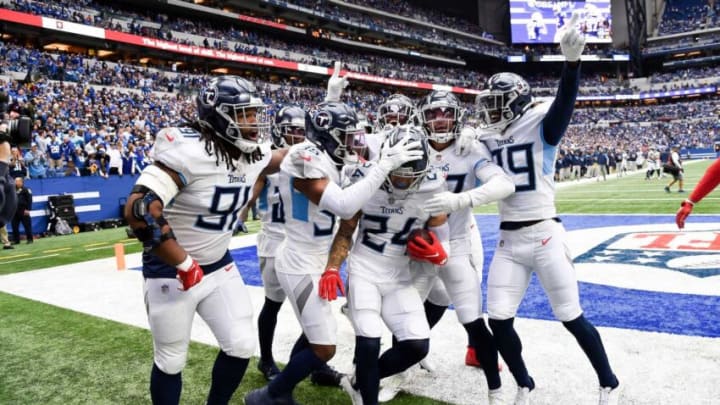 Tennessee Titans (Mandatory Credit: The Tennessean) /
With this training staff, reading the Tennessee Titans injury report is a weekly chore that leaves fans disappointed and aggravated.
However, I can't remember seeing an injury report that has ever looked quite like the one that the Titans posted on Thursday.
The best way I can describe it is that it is like watching a tornado form on a weather map. There is definitely a hot front of good news sweeping through, but it is about to converge with a cold front of surprising injuries.
How bad the ensuing storm will be is anyone's guess, but fans need to brace themselves either way.
Before I go into the good and the bad, see how many interesting trends you can see:
Breaking down the Tennessee Titans' "cold fronts" and "hot fronts"
One disclaimer to get out of the way is that the Titans' defense played 101 snaps on Sunday night, so there is a very real chance that these first two days have been rest days for multiple guys on that side of the ball.
With that said let's get the bad news out of the way first, it is never a good thing when a player regresses on an injury report.
Lost in the excitement yesterday was that Kristian Fulton went from LMT to DNP with a hamstring injury. Hamstrings are notoriously fickle and Fulton missed Week 2 with the same injury.
Another gut punch is Jeffery Simmons and Bud Dupree both being on the DNP list two days in a row. Both players are very important to the Tennessee Titans defense and both have shown some signs that this is more than just a veteran rest day.
Simmons has been in a walking boot and he has talked about how there has to be an emphasis on getting healthy at this point in the season. Dupree on the other hand only played 44 snaps before coming out with that reaggravated hip injury.
Teair Tart's illness isn't quite as scary since there is no reason for them to push him early in the week, and as of Friday morning I would still expect him to play.
While it would hurt to lose Amani Hooker and Zach Cunningham, both players have missed three games this season and the Tennessee Titans have backups in place.
Now for the good news, and that has to start with Ryan Tannehill.
Tannehill is one of the toughest and most successful quarterbacks in franchise history and any time you can have him on the field it is a good thing. Both players are working with a hand tied behind their backs, but look at how Tannehill stacks up with Malik Willis this year:
Ryan Tannehill: 65.1% completion percentage, 7 TDs, 3 INTs, 7.5 yards per attempt
Malik Willis: 40% completion percentage, 0 TDs, 1 INT, 4.7 yards per attempt
So, that is going to be a big upgrade for the Titans and it opens the playbook (if the offensive line can protect for long enough).
Key starters like Derrick Henry, Nate Davis, David Long, and Denico Autry are all listed as full participation as well as key role players like Dontrell Hilliard and a returning Tory Carter. That will help insulate the potential loss of some of the players I mentioned earlier.
One thing that we can't see on the injury report is the likely returns of WR1 Treylon Burks and SCB Elijah Molden. Even if both players have some rust, they both will fill needs for the Tennessee Titans this weekend.
If everything breaks right, the Tennessee Titans could have their starting offense (minus Taylor Lewan and Kyle Philips) for the first time since September. Since all of these guys were on the field together, Austin Hooper has started to make more plays and Chig Okonkwo has definitely started to emerge as a guy that needs to see some designed touches.
Also, if the Kristian Fulton injury turns out to be a blip, the Tennessee Titans could have their starting cornerbacks all together for the first time this season. As much as it will hurt if Big Jeff misses this game, those DBs with Denico Autry, Rashad Weaver, and Teair Tart should be enough to keep the pass defense sharp against a struggling Denver Broncos offense.
If things don't break the right way and Ryan Tannehill sits another week and the Titans take their time with Treylon Burks, then it could be a game where Tennessee has to pray for turnovers to have a chance against a mediocre Broncos team simply because they can't move the ball.