Key trade deadline targets for the Tennessee Titans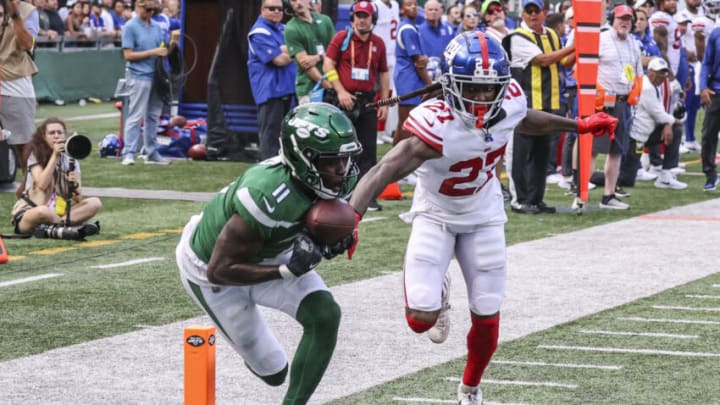 Tennessee Titans Mandatory Credit: Wendell Cruz-USA TODAY Sports /
The Tennessee Titans need to make improvements to the roster if they want to become serious contenders in the postseason.
There are a few players that have their names on the block to be traded at the deadline and it seems that maybe there aren't many untouchables in the league currently with Christian McCaffery recently being traded to the San Francisco 49ers in a blockbuster deal.
The Tennessee Titans could look to the trade market to patch a few holes created by injuries or to just upgrade and bring in talented players.
Instead of talking about what it would cost, let's just refresh some of the names that could be on the market after rumors have continued to circulate over the past week.
Tennessee Titans trade targets
WR Denzel Mims or WR Elijah Moore, New York Jets
There are two names on this listing because they both come from the same team and are both in trade rumors at the deadline.
Mims is a young bigger receiver that could pair well with Robert Woods and Treylon Burks whenever he finally gets healthy. The Tennessee Titans desperately need receiver help and going after players they might have liked in previous drafts makes sense.
Elijah Moore is a big-name receiver and a lot of Tennessee Titans fans wanted the team to take a shot on him in the 2021 NFL Draft, that pick ended up becoming CB Caleb Farley out of Virginia Tech.
CB Sidney Jones V, Seattle Seahawks
If the Tennessee Titans are really not going to develop Caleb Farley, then this could be a move to add a starting-caliber corner to the roster. Elijah Molden is still sidelined with an injury and Kristian Fulton has missed time in each of his first three seasons, so cornerback depth is crucial if the Tennessee Titans are going to try to go on a run.
The team also isn't allergic to making moves for DBs at the deadline, back in 2020 the team landed Desmond King II in a trade with the Los Angeles Chargers who ended up playing well for the Titans before not being brought back and signing a deal with the Houston Texans (his revenge game against us needs to be wiped out of our memories). The Titans would be making a very bright decision in trading for Jones due to his likely very cheap price.
LB Roquan Smith, Chicago Bears
The Tennessee Titans don't necessarily need to trade for a linebacker but Smith is one of the best in the league. Smith is a stud and would be a great player to possibly replace Zach Cunningham who isn't on a contract for much longer and could be released at the season's end to bring Roquan Smith back on a contract that would keep him in town for years to come. This would be a blockbuster deal for the Titans but one that makes a lot of sense when it comes to age and regression.
WR Cedrick Wilson, Miami Dolphins
It may seem a little far-fetched that Cedrick Wilson would be traded right after signing a contract with the Dolphins but due to the Tyreek Hill trade and the good play of Jaylen Waddle, keeping Wilson's contract on the books doesn't make too much sense.
The Tennessee Titans could get some very meaningful play out of him and maybe even get him involved in a couple of trick plays like Kellen Moore and the Dallas Cowboys did with him during his time there. This would really expand the opportunities for struggling OC Todd Downing to finally break through the wall it seems he's already hit since the departure of Arthur Smith to the Atlanta Falcons.
CB Amani Oruwariye, Detroit Lions
This trade would likely not be as cheap as a Sidney Jones deal but Oruwariye is younger with more potential to be elite than Jones. Since he has been benched in Detroit, this could be a nice flier if the Tennessee Titans wanted to add a boom-or-bust type of corner.