Tennessee Titans full 2022 NFL mock draft with trades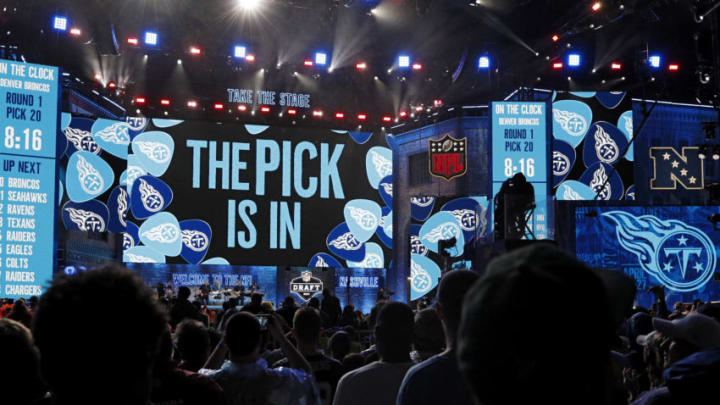 Tennessee Titans (Photo by Joe Robbins/Getty Images) /
The 2022 NFL Draft is days away and the Tennessee Titans could do a few different things.
Some years, teams fall over themselves to jockey up a few positions for a player they love. Others seasons, everyone wants to trade back. But what about the Tennessee Titans?
Will they stand pat at pick #26 in the first round and make a selection, or will they trade down to acquire a second-round pick? Do they like any player enough to trade up?
I believe this draft favors the Titans trading back because it's loaded at the team's positions of need: offensive line, wide receiver, and tight end.
In the spirit of the many mock drafts floated this time of year, I'm rolling the dice and publishing a Titans mock draft of my own using ProFootballNetwork.com's draft simulator. I chose to not propose trades myself, but if a team offered, I considered it.
How did the Tennessee Titans do?
In the first round, the Houston Texans offered picks #37, #80, and a 2023 2nd-round pick for the Tennessee Titans' first-round selection at #26.
Move from the back of the 1st round to near the top of the 2nd, move up 10 spots in the 3rd round, and receive a division rival's 2nd round pick next year? Yes, please.
Poised to make a selection at #37, the Washington Commanders called. They proposed trading picks #47, #131, and a 2023 2nd-round pick to the Titans in exchange for #37. Trigger pulled.
At pick #47, the Rams proposed another trade, the Titans #47 from the Commanders and #169, for their pick at #104 and their 2nd and 3rd round picks next year. As much as I like the Bill Belichick strategy of stockpiling draft capital, I rejected this one because I didn't want too many impact players off the board before the Titans selected.
With pick #47 in the 2nd round, I chose Bernhard Raimann, OT, Central Michigan. He would solidify the right side of the line and be a Day One starter.
With the 80th pick, I chose Calvin Austin III WR, Memphis. He has 4.32 speed and it pops on film, and that would take the top off opposing defenses and give the underneath passing game room to operate. If the Tennessee Titans can ever find a player who can force defenses to use a 7-man box, it will make Derrick Henry's life easier.
In the 4th round, Jalen Wydermyer, the TE out of Texas A&M, was still there, so I nabbed him. I've seen him mocked to the Titans as a possible 3rd round selection, so getting him with the final pick of the 4th round seemed like a steal.
Central Michigan iOL Luke Goedeke was still available at pick #169. He was someone that's been mocked higher and should be able to compete for the starting left guard position.
At pick #204, I threw some love at the defense and took CB Chase Lucas out of Arizona State.
He's a great athlete with a high football I.Q. that often puts him in the right spot to make plays; a faster, more athletic Elijah Molden who can play anywhere in the defensive backfield. He would immediately upgrade the special teams and offer versatility in the DB room similar to what Chris Jackson brings.
My final pick at #219 was Tennessee Vols wideout, Velus Jones.
He's an electric playmaker I've seen mocked to the Titans numerous times, but to get him late in the 6th would be an old-fashioned train robbery.  This former SEC Special Teams Player of the Year is raw but versatile. He returns both kicks and punts, he's big, runs a 4.31, and breaks tackles, you could do a lot worse on Day 3.
Some players I wanted were gone when it came the Titans' turn to pick. That's the draft for you. But I can live with nabbing a starter at RT, a WR that opens the middle of the field, a rotational TE to team with Hooper, competition for the starting guard spot, an underrated gem who can see playing time in the defensive backfield and special teams, another special team demon who can also contribute in the passing game, AND still grab a couple of 2nd round picks next year, one of them from a division rival.
Let me know what you think.