New York Giants might poach key members of the Tennessee Titans front office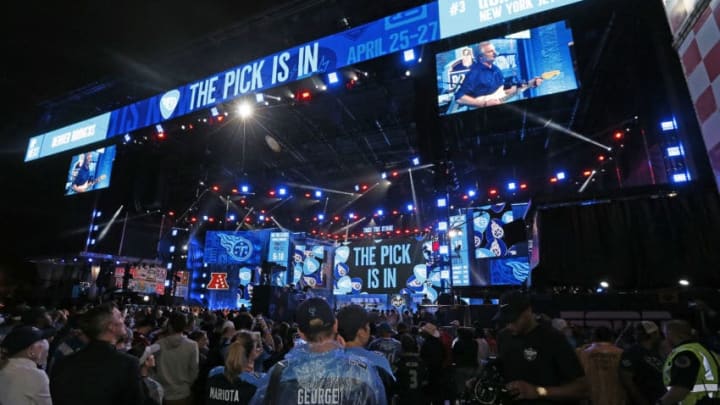 Tennessee Titans (Photo by Frederick Breedon/Getty Images) /
It took a long time, but the Tennessee Titans are finally being viewed as one of the most well-run and well-put-together teams in the NFL.
Even if the national media talk about it, the rest of the NFL is taking notice of the Tennessee Titans' ability to put together a staff and assemble players. Since GM Jon Robinson and HC Mike Vrabel have joined forces, the Tennessee Titans have had two OCs become successful head coaches in Arthur Smith and Matt LaFleur.
While this batch of coordinators and coaches are proving themselves, the focus has shifted to the Titans' front office.
According to reports, the New York Giants might attempt to poach either Ryan Cowden or Monti Ossenfort from their roles in the Tennessee Titans front office.
Why these Tennessee Titans may interest the New York Giants
Monti Ossenfort might be the man most likely to go to the New York Giants because he and current HC Joe Judge were on the same staff together in New England before both left for greener pastures.
It is always hard to nail down exactly what one voice does in a front office, the consensus opinion is that he is well thought of around the NFL. He joined the Titans after the 2020 NFL Draft, so there is really only one offseason's worth of work to look at in Tennessee.
Still, in that time he did help Jon Robinson and the rest of the staff quickly rebuild a defense that desperately needed help and he has presumably had a role in the constant reloading that the team has had to do as they went through their record 91 players.
Ryan Cowden doesn't have the same connections to the New York Giants, but he is definitely the better prospect.
Cowden was hired by Jon Robinson as soon as he took the GM job in Tennessee. Since then the Titans have enjoyed what is arguably their best stretch of offseasons in franchise history and he has been one of the most senior members in that front office.
Something to note is that he has been in the NFL for 20 years and has only worked for two teams. That means that regardless of changes at the GM position, he has done a good enough job to quickly earn the respect of his new boss and secure his place in the organization under the next regime.
Of the two, Cowden is clearly the best choice and he would hurt the most if he left. While the Titans have had years to prepare for this eventuality (since he seems destined for a GM job someday) it would obviously be something that they would have to adapt to this offseason.