Tennessee Titans 5 biggest takeaways from the first half of the 2021 season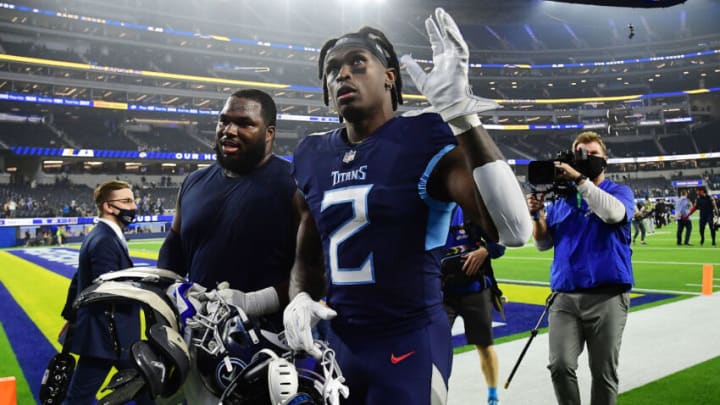 Tennessee Titans Mandatory Credit: Gary A. Vasquez-USA TODAY Sports /
Kristian Fulton, Tennessee Titans (Mandatory Credit: Imagn Images photo pool) /
3. The best is yet to come for the Tennessee Titans
The Tennessee Titans aren't "banged up" they are the most injured team in the NFL by a wide margin. That isn't an opinion, that is a fact.
Despite that, they are still 7-2, and have they have the best resume in the NFL when you look at their wins. On Sunday, the Titans got to see Jayon Brown and David Long together for a full game for the first time and it should shock no one to see that they looked like one of the best defenses in the NFL.
Well, maybe it should shock you a little.
But there are several combinations that we haven't seen this season that could elevate the Titans.
On defense, the Tennessee Titans could consider playing Chris Jackson and Kristian Fulton as the boundary corners and putting Elijah Molden in the slot. Those three have never been on the field together, and Kristian Fulton has never even been on the field with the pass rush package of Harold Landry, Jeffery Simmons, Denico Autry, and a healthy Bud Dupree.
Offensively, the Titans have only gotten a glimpse of their starting offensive line together and you could argue that Nate Davis should take more time off and that Aaron Brewer should get a real shot at the right guard position.
As far as I can remember, there hasn't been a game where Julio Jones, A.J. Brown, Chester Rodgers, and Marcus Johnson have all been available and they are the four best receivers on the Titans roster.
The list goes on and on, but since none of those players are on long-term I.R., there is still a chance for any of these combinations to see the field and provide a boost to an already great team.