Titans versus Jets: Corey Davis comes back to haunt Tennessee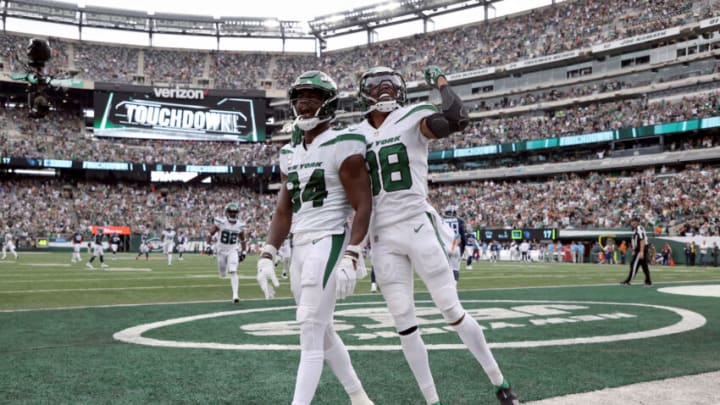 Corey Davis #84, New York Jets (Photo by Al Bello/Getty Images) /
Tell the truth. When Corey Davis was allowed by the Tennessee Titans to walk during the most recent offseason, how many of you said to yourselves that the decision would come back to haunt them? You didn't, did you?
After all, the Titans had A.J. Brown. They added Josh Reynolds, and to put a little icing on the cake, they pulled off a trade to bring Julio Jones to Nashville.
Ummm, guess what just happened. Remember when we were all talking this week about focus, the lowly New York Jets, and possible trap games? Well, the Tennessee Titans just walked into MetLife Stadium, got slapped around by those same Jets that we were picking on, and will now board the plane back to Nashville with their second loss of the season on the 2021-2022 ledger.
Sure, even with a .500 record, they're still the leaders of the AFC South, but for a team that should make the postseason, losses like these could be the difference between hitting the road for that first playoff game or playing it at home.
This one stings, but what's worse is this. This is a game that the Titans should have won easily.
Maybe the Titans made a mistake?
Maybe it's just us, but right around the middle of the week when Corey Davis started talking about how he had hoped the Titans would keep him and how hurt he was when he found out that they wouldn't, something started to feel really weird.
Heading into Week 4's game, we knew that A.J. Brown and Julio Jones would sit out. Heading out of the game, we're sure to hear a few questions about Tennessee's readiness as we move past the first game of the season.
Who are these guys? They beat the Seattle Seahawks on the road. They lose to one of the NFL's worst teams two weeks later and are physically manhandled.
Is this a team that we can trust in the postseason? What's going on with this offensive line in pass protection (Ryan Tannehill was sacked seven times and hit on 14 more occasions)? And dare we say it? Is there any possibility that Julio Jones' addition has disrupted some team chemistry?
No one's saying Corey Davis is better than Julio Jones. That would be ridiculous. You have to ask a question though. Was releasing him a mistake? Davis finished with four receptions for 111 yards and a touchdown, but in all honesty, that stat line could have been even larger.
Zach Wilson missed Davis on a few occasions including a third-down pass during the latter stages of the fourth quarter that, in essence, should have ended the game much earlier and a touchdown opportunity that was missed in overtime by Wilson, one in which Davis was running wide open in the end zone.
Tennessee falls to 2-2 on the season, but there are sure to be some questions that are asked about this team all week.