Tennessee Titans practice squad tracker in 2021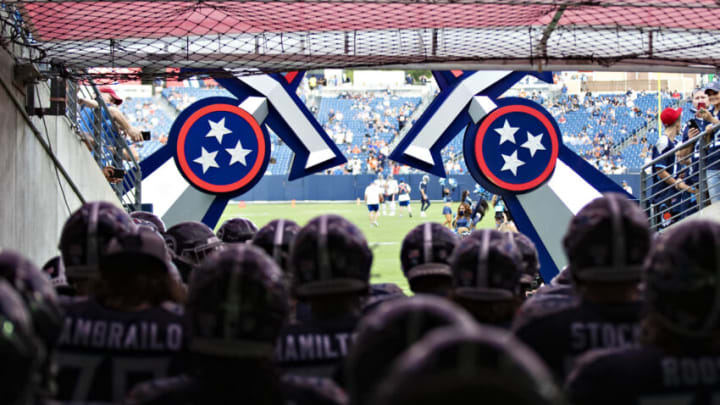 Tennessee Titans. (Photo by Wesley Hitt/Getty Images) /
The Tennessee Titans trimmed their team down to a 53-man roster on Tuesday. Now, they can start assembling their 16-man practice squad.
Practice squad moves began this afternoon after waiver claims were processed, and most of those claims involve recently cut players. Two Titans players of note, Dez Fitzpatrick and Mason Kinsey, were released by Tennessee but could rejoin the team via the practice squad if the Titans still want to hold onto them.
This is a continually edited list of confirmed moves for the Titans' 2021 practice squad. Check back for the latest updates on which players made the squad.
Tennessee Titans practice squad tracker
MyCole Pruitt
Tight end MyCole Pruitt has been re-signed. He played in 11 games for Tennessee last year and adds valuable depth at the position.
Christian DiLauro
Offensive tackle Christian DiLauro has been re-signed. DiLauro has yet to take the field in an NFL game, but has served on the practice squads of the Browns, 49ers, Texans, and Steelers.
Jordan Roos
Offensive lineman Jordan Roos has been re-signed.
Miller Forristall
Undrafted free agent Miller Forristall has been re-signed.
Dez Fitzpatrick
As expected, wide receiver Dez Fitzpatrick has been re-signed. Fitzpatrick struggled with drops this preseason, but the 2021 fourth-rounder was too valuable to let go.
Mason Kinsey
After going unclaimed on the waiver wire, wide receiver Mason Kinsey has also been re-signed. Retaining both Kinsey and Fitzpatrick on the practice squad was the best possible outcome for Tennessee.
Jan Johnson
Linebacker Jan Johnson has been re-signed, no doubt for insurance purposes.
Tory Carter
We've long known that Khari Blasingame was the favorite to win the Tennessee Titans fullback role, but it's nice that Tory Carter, a nice talent in his own right, is being given the chance to develop.
Naquan Jones
This young man is a much better run defender than a pass rusher, but he figured to fall victim to the numbers game regardless of how well he played. The Tennessee Titans were gridlocked along the defensive line, but keeping this undrafted rookie around to develop was still a no-brainer.
Derwin Gray
What's that saying? You can never have too many offensive linemen. Well, Derwin Gray is a nice insurance option should anything happen as far as injuries.
Woodrow Hamilton
He only has six total tackles on his resume over the course of his first seven games (that spans three seasons, but Woodrow Hamilton is someone that fans ought to know.
Jamal Carter
He's played in 28 games and racked up 26 total tackles over the course of the 2017, 2019, and 2020 seasons.
Briean Boddy-Calhoun
He's had a nice showing in his time here, so Briean Boddy-Calhoun's addition to Tennessee's practice squad makes a lot of sense. He also has a lot of experience having played in 47 games and racking 151 tackles during his five-year career.
Matt Barkley

Tennessee Titans GM Jon Robinson announced on September 1st that Matt Barkley would remain with the team as a member of the practice squad.
September 2nd: Amani Bledsoe
Tennessee Titans announce that RB Darrynton Evans, WR Marcus Johnson, and OL Daniel Munyer will be placed on the team's IR. They also waived TE Luke Stocker after LB Nick Dzubnar was activated from the team's Reserve/COVID-19 list and added DL Amani Bledsoe to the practice squad.
September 7th: The Titans announce a bevy of roster moves including their decision to release defensive back Bradley McDougald from the 53-man roster. He'll be added to the team's practice squad though.
Derwin Gray was released from the practice squad while OL Corey Levin and DB Chris Jones were added. Safety Brady Breeze is moved to the Reserve/COVID-19 from the injured reserve list.
September 8th: Guard Nate Davis and center Ben Jones are activated from the Reserve/COVID-19 list on September 8th.