Tennessee Titans select game-changing receiver in 2022 NFL mock draft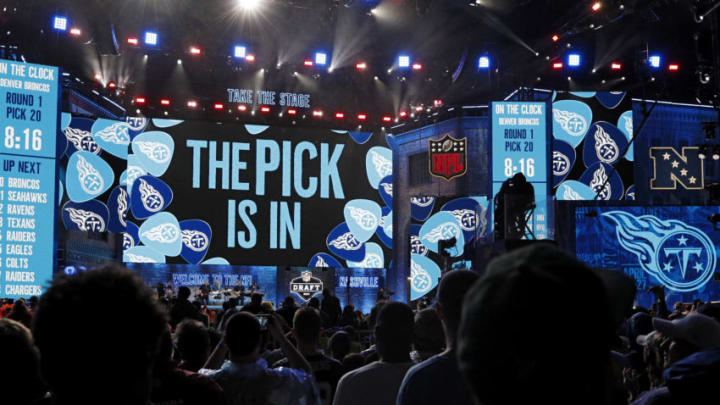 Tennessee Titans (Photo by Joe Robbins/Getty Images) /
The Tennessee Titans were dealt a blow this offseason when it came to their offensive weapons, losing Corey Davis, Adam Humphries, and Jonnu Smith in free agency. They signed Josh Reynolds and drafted Dez Kirkpatrick and Racey McMath in the fourth and sixth rounds respectively, giving them some new weapons for Ryan Tannehill's arsenal. Oh, not to mention they traded for Julio Jones, who is an absolute monster on the gridiron.
Even with the new faces in Nashville, the Titans are probably going to find themselves in a situation where they need to draft a wide receiver early on next year. Reynolds is only signed to a one-year deal and while the Titans would still have Jones and A.J. Brown, they'd need a WR3 to keep their offense as one of the best in the AFC.
That's exactly what Brent Sobleski of Bleacher Report has them doing in his latest mock draft, as he had the Titans selecting Ohio State wide receiver Chris Olave with the No. 19 overall pick.
Sobleski wrote:
"Ohio State's Chris Olave is arguably the best wide receiver in the class. Olave may not be quite as explosive in the open field as teammate Garrett Wilson, but the first-team All-Big Ten performer knows how to get open. In fact, he leads college football since the start of the 2019 campaign by creating a step or more of separation on 87 percent of his targets, per Pro Football Focus."
In 2019, Olave put up the best numbers of his college career to this point, grabbing 48 receptions for 840 yards and 12 touchdowns through 13 games. Through seven games in 2020, Olave totaled 50 receptions for 729 yards and seven touchdowns, nearly matching his 2019 totals despite playing in half the games he played in the season prior. The guy's a beast and would give the Titans yet another lethal receiver.
The Tennessee Titans selected Chris Olave in a recent mock draft.
While Titans fans might not want the team to go with another receiver in the first round, the NFL is a pass-happy league these days, so why not load up? It's worked out well for the Chiefs and Buccaneers, so the Titans should follow suit and add another wideout to an already stacked unit.
Titans fans should definitely keep an eye on Olave this year and see what kind of damage he does for the Buckeyes during his final collegiate season. He'd be the perfect addition to the Titans' offense next year and would make this group even scarier.