Tennessee Titans draft mistake involved their wide receivers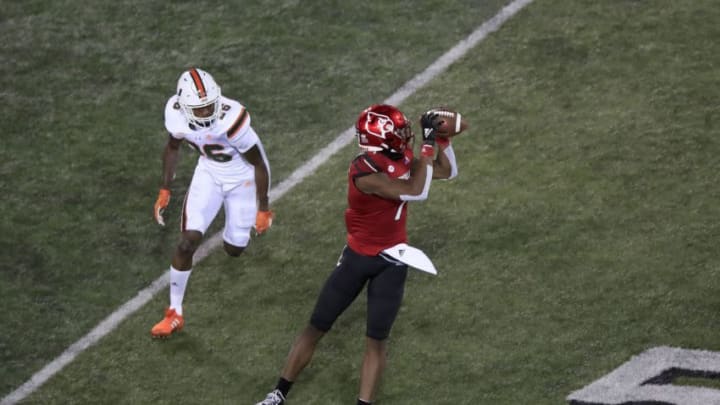 Dez Fitzpatrick #7 of the Louisville Cardinals (Photo by Andy Lyons/Getty Images) /
The Tennessee Titans did well in the 2021 NFL Draft but there were some questions left unanswered when the dust settled, especially at wide receiver. Jordan Dajani of CBS Sports wrote about what the Titans didn't do over the course of the weekend and he said it was mishandling the wide receiver additions.
The Titans lost three of their top weapons from a season ago, as Corey Davis, Adam Humphries, and Jonnu Smith all signed elsewhere in free agency (Davis to the Jets, Humphries to Washington, and Smith to the Patriots). It seemed like a foregone conclusion that the Titans would be addressing the wide receiver position early on in the draft but they waited until Day 3 to do so and their pick surprised people, to say the least.
Dajani didn't like that the Titans not only waited until Day 3 to take their first receiver of the draft but that they traded away a fifth and seventh-round selection to reach up and grab him in the fourth round. He said he liked Dez Fitzpatrick with the Titans but the team could have waited until later on to take the Louisville speedster.
Dajani also had issues with the Titans trading their No. 85 pick to the Packers, who went on to take Clemson's Amari Rodgers.
"The Titans could have used an All-ACC player who put up 1,020 receiving yards and seven touchdowns last year, but instead took the linebacker Rice seven picks later and Weaver in the fourth round — whose future is already in jeopardy."
The Titans might look back on this decision with regret down the road, especially if Rodgers goes on to dominate and Fitzpatrick does very little. Rodgers would have given the Titans a sure thing No. 2 wide receiver, as he'd have been a better option at that spot than free-agent addition Josh Reynolds.
The Tennessee Titans could have handled their wide receiver situation better.
The Titans drafted two receivers in the 2021 NFL Draft but both were Day 3 selections who probably could have been drafted later on. Fitzpatrick going in the fourth round surprised a lot of people and Racey McMath never had more than 17 receptions in a single season at LSU so taking him in the sixth round also seemed like a reach.
The Tennessee Titans' offense took a hit this offseason and the draft would have been a nice way to build it back up. While they did add two weapons for Ryan Tannehill, the way Tennessee went about selecting those guys wasn't the wisest. We'll see how this pans out for them moving forward.