Tennessee Titans declining Rashaan Evans' 5th-year option isn't surprising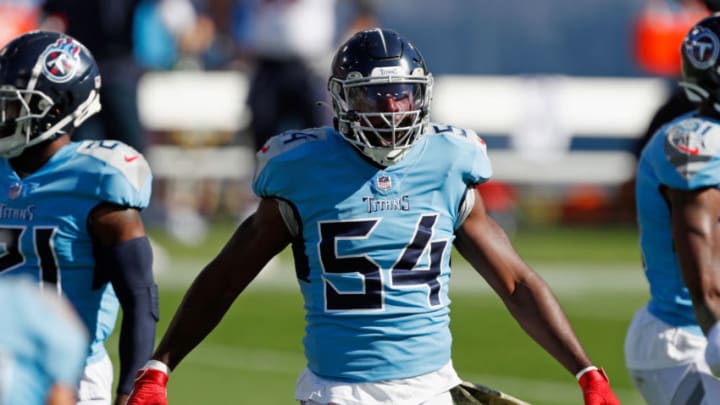 Rashaan Evans #54 of the Tennessee Titans (Photo by Wesley Hitt/Getty Images) /
The Tennessee Titans have declined former first-round pick Rashaan Evans' fifth-year option, according to Adam Schefter. This is not shocking news at all.
After a prolific career at Alabama where he totaled 150 tackles (23 for loss) and 15 sacks through four years, Rashaan Evans becoming a first-round draft pick in the 2018 NFL Draft was an expected occurrence. The Titans took him No. 22 overall that year and the end result has been disappointing, to say the least.
Last year was particularly tough for Evans, as he failed to show what made him a first-round pick. This is yet another strike for Jon Robinson, who has now declined options on three of his four first-round picks, per Paul Kuharsky on Twitter.
Rashaan Evans' fifth-year option being declined is the right move for the Tennessee Titans.
The interesting angle of the Evans news is that his agent, Drew Rosenhaus, noted in Schefter's tweet that this happened because the two sides are looking for a contract extension. Rosenhaus has a job to do, which is to protect his client and do what's best for him at all costs, and this could be a prime example of him doing just that.
Tennessee drafted Monty Rice in the third round and he looks to be a similar kind of player to what Evans was supposed to be for the Titans. Why would Tennessee have drafted Rice if they planned to extend Evans and keep him around? None of this adds up.
The Titans have seen declining fifth-year options blow up in their faces the past two years, as both Jack Conklin and Corey Davis went on to really impress during their fifth seasons. Conklin now plays for the Browns (and had a good first season with them) while Davis signed with the Jets. Declining their fifth-year options was the right move at the time, however, and that's what fans need to remember should Evans ball out during the 2021 season.
Considering how poorly he's played throughout his three years in the league though, Evans would really have to be an All-Pro kind of player to make the Titans regret declining his fifth-year option. When a team spends a first-round pick on a guy, they expect him to be a difference-maker and Evans has been anything but. He had just half a sack last year through 16 games and isn't making the kind of impact that the Titans need on defense.
If Rashaan Evans has an incredible year in 2021, then maybe the Tennessee Titans are cursed when it comes to fifth-year options. But for now, let's just consider it a very annoying coincidence.