Tennessee Titans: NFL Draft guru names DB as best first-round option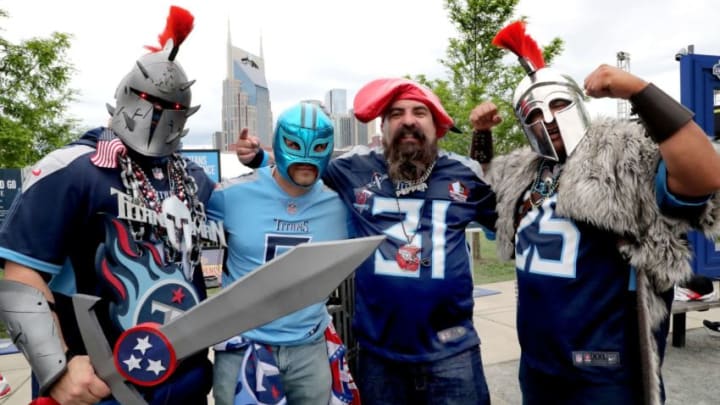 Tennessee Titans (Mandatory Credit: USA TODAY Sports image pool)2 Nfl Draft Experience /
Well, every Tennessee Titans fan has debated and gotten really close to arguing, but regardless of what their opinions are, everyone continues to settle on two very valid points whenever the upcoming NFL Draft finally gets underway in Cleveland on April 29th.
No one wants a repeat of that Isaiah Wilson debacle from a year ago, and almost to a man (or a woman), everyone agrees that Tennessee's focus needs to be on right tackle and edge rusher with their two most important needs being a cornerback and wide receiver.
There isn't a Titans fan in Nashville or anywhere else on Planet Earth that won't be glued to the screen when Tennessee is on the clock with the 22nd-overall selection. The question is, and it's one that's been eating at us all, which direction will they actually go in?
Daniel Jeremiah sheds light on this Tennessee Titans issue.
To even the most casual NFL fan, NFL Network's Daniel Jeremiah is a name that should be pretty recognizable. You or someone that you follow is following him on Twitter. Recently, he hosted a Wednesday afternoon Zoom meeting with much of the national media.
The Titans and what they should do at 22 came up. He believes their best choice in Round 1 is former South Carolina Gamecocks standout, Jaycee Horn. Here's some of what he had to say on the subject. Credit Jim Wyatt of the TennesseeTitans.com for the quote.
"The perfect pick to me, if somehow in a miraculous fashion that Jaycee Horn was to slide a little bit, you could scoop him up and plug him in. Maybe it's something where you can trade up for somebody like that."
Okay, Tennessee Titans fans, what say ye?
The 22nd draft choice is always interesting. It won't allow you, most times, to take the best prospect that was available at most positions, but it can be used as collateral to either trade up or trade down. Here are a few very valid questions.
If the Titans are interested in Horn, wouldn't they have to trade up? If they can't or if he isn't available when it's their turn to make a selection, can they trade back, get more picks, and still get someone that they want? Are they even interested in a cornerback at all? Could they be eyeing Alabama's DeVonta Smith? After all, it doesn't take much to come up with a couple of reasons why Tennessee should trade up and snag him!
As far as Horn goes, his immediate value to a Tennessee Titans defense that struggled to defend the pass is obvious. He's six-foot-one. He tips the scales at 205 pounds, and in 30 career games at the collegiate level, he tallied 101 total tackles while snagging two picks, three sacks, 23 pass breakups, and two forced fumbles. Pay very close attention to him on draft night if you prie yourself on being a Titans fan.