When will Derrick Henry start looking like El Tractorcito?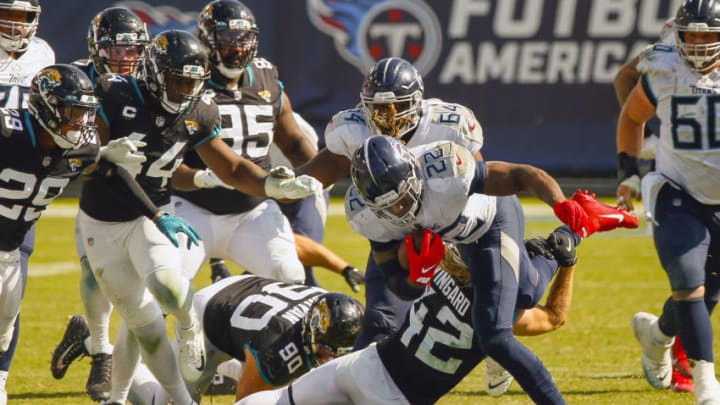 NASHVILLE, TENNESSEE - SEPTEMBER 20: Andrew Wingard #42 of the Jacksonville Jaguars tackles Derrick Henry #22 of the Tennessee Titans at Nissan Stadium on September 20, 2020 in Nashville, Tennessee. (Photo by Frederick Breedon/Getty Images) /
(Photo by Dustin Bradford/Getty Images) /
The Master of The Slow Start
If you're trying to find out what's wrong with Henry's game, the answer might be simple. It's the same problem that it's always been– Derrick Henry just starts the season slowly.
That was the case in 2018, Henry's first season as a full-time starter. With over 1,000 yards on just 215 carries and a whopping 12 touchdowns to boot, it's easy to look at that season, think that Henry was one of the best running backs in the league, and just be done with it.
But Henry's 2018 season didn't really start booming until late in the year. In fact, up until a breakout Week 13 against the Jacksonville Jaguars, it might even be fair to call Henry a non-factor.
In the final four weeks of football alone, Henry had 585 of his 1,059 rushing yards, seven of his 12 rushing touchdowns, averaged more than three yards a carry more than his average through the first 12 weeks and had four of his six highest-volume games in the last four weeks.
It was a similar story in 2019, although a quicker turnaround. Henry was slow in his first six games of last season. He ran the ball at a high volume, similar to this season, but he really struggled to take over games in the way he did from Week 7 onward.
It's important to remember that even in two seasons with slow starts, Derrick Henry did eventually become…well Derrick Henry. It took a few 28 and 44-yard games in 2019, but Henry eventually became the NFL rushing leader. Same for 2018. It took a few 20-30 yard showings at the start of the season, but Henry did eventually become a guy capable of 99-yard touchdown runs.
This happens for a couple of reasons, one big one being Henry's running style and frame. A running back of the same size and strength becomes a much harder guy to bring down in Week 9, after months of NFL wear and tear, than he would be in Week 2 or 3. It could also be schematic.
Once teams get more tape on an offense, ways to slow down a passing attack become more apparent, taking effort and resources away from stopping the running game. But whatever the reason, like magic, Derrick Henry always becomes Derrick Henry.
So with the question "what is wrong with Derrick Henry?" answered, the focus shifts more to "when will Derrick Henry start playing like himself again?"