When will Derrick Henry start looking like El Tractorcito?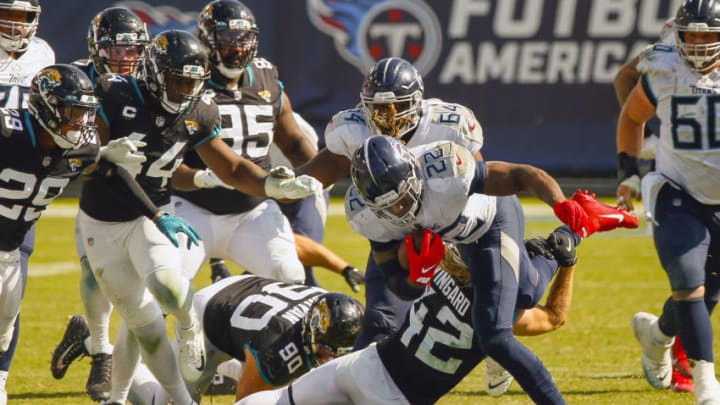 NASHVILLE, TENNESSEE - SEPTEMBER 20: Andrew Wingard #42 of the Jacksonville Jaguars tackles Derrick Henry #22 of the Tennessee Titans at Nissan Stadium on September 20, 2020 in Nashville, Tennessee. (Photo by Frederick Breedon/Getty Images) /
(Photo by Dustin Bradford/Getty Images) /
King Henry's return is a matter of "when" not "if"
No, it's not yet time to start questioning Derrick Henry's expensive new contract. It's not the time to trade Henry from your Fantasy team, or the time to swap out your Henry jersey for a Jeremy McNichols one (although you should probably have both, honestly), and it will never, never, be the time to admit that Geoff Schwartz was right.
Admittedly, Derrick Henry's two-game start to the season has been a far cry from where he ended the 2019 regular season, and about as slow a start as you could expect to see from the AFC's leading rusher over the first two weeks of the season.
Don't let the high rushing totals fool you, despite being just one of two running backs with over 200 yards at this point in the year, it's been tough-going for Henry in 2020.
Henry, who currently averages a staggering 4.7 yards per carry on his career, has managed just 3.6 through two games in 2020.
The running back who managed a combined 28 touchdowns through two seasons in 2018 and 2019, hasn't found the endzone a single time yet in 2020. The ball-carrier known for reeling off nearly impossible long runs, ones unforgiving to whatever poor cornerback or safety tries to stop him, has managed a season-high carry of only 14 yards.
It hasn't been a change in the offense, the Titans are still force-feeding their running game, even if it has produced mixed results thus far. It hasn't really been a change in the blocking, either. Despite losing Jack Conklin in the offseason, the Titans offensive line mostly hasn't missed a beat.
All of this comes back to beg the question, "what is wrong with Derrick Henry?"